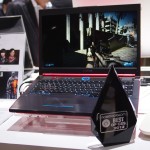 The Samsung Series 7 Gamer is one of the best machines we've seen at CES 2012. Samsung's first gaming notebook packs enough raw power to play the latest video games at their highest settings.
This notebook comes with a lot of the features you'd expect to see on a gaming notebook, but its designers managed to do so in a tasteful manner and fit it all into a relatively thin and light package. With a sticker price of $1,799, the Samsung Series 7 Gamer comes with a massive 2TB hard drive, Intel Core i7 processor and NVIDIA Geforce GTX 675 graphics with 2 GB of memory.

The Series 7 Gamer doesn't have an overly aggressive appearance, which means it'll blend into the non-gaming world a lot better than gaming notebooks from Alienware and others. The Series 7 Gamer has an overclocked processor, a keyboard that shifts colors, the speakers pulsate with ambient light and you can choose between fancy gaming-inspire desktop backgrounds. But that's only when you spin a small dial into gaming mode and get ready to do battle. The Series 7 Gamer behaves itself and quiets down into library or balanced modes the rest of the time.
Series 7 Gamer Battlefield 3 Demo
Its display is absolutely gorgeous, making games more immersive. If you spend too much time using this notebook you'll have a tough time switching back to a notebook with an ordinary display.
Battlefield 3 performed very well on the Samsung Series 7 Gamer. Gaming purists may still opt for fully upgradeable desktops, but most people will be completely satisfied with this notebook.
The Series 7 Gamer notebook is Notebooks.com's pick for Best Gaming Notebook of CES 2012.
Advertisement