Sony pulled the covers off the VAIO C line of notebooks today, showing off bright orange and green finishes as well as a slew of multimedia friendly options for the new line which includes the VAIO CA 14.4″ notebook and the VAIO CB 15.5″ notebook.
The VAIO C notebooks make use of the latest Second Generation Core i5 processors complete with Intel TurboBoost 2.0 for a boost in speed when needed. Additionally, the VAIO C series will have Intel Wireless Display 2.0 for wireless streaming of HD video to HDTVs with a WiDi adapter and the availability of Blu-Ray and AMD Radeon HD 6630 Hybrid graphics with 1GB Video RAM on select models.
The Sony VAIO C displays are LED backlit and will have the option of a Full HD 1080p screen for users who want to enjoy HD content at full resolution or who will be using the higher end machines creatively and need to see their work at peak resolution.
Backlit keyboards will be standard across the VAIO C line of notebooks as is the inclusion of an HD webcam with an "Exmor" sensor that is supposed to improve performance in low light conditions.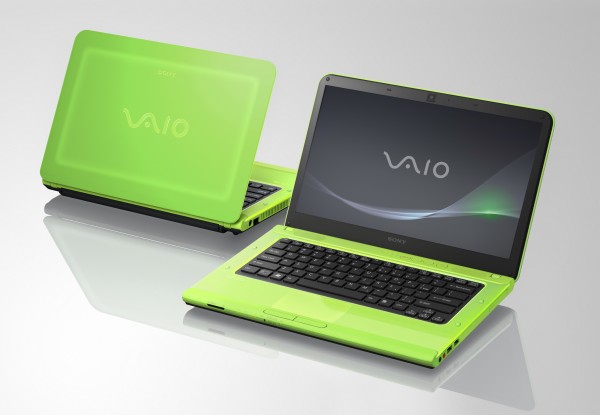 All VAIO C laptops will also include the Sony Imagination Studio Suite 2 VAIO Edition which includes the applications you need to work with your music, photos and movies. This suite of applications includes the following tools to help you flex your creative muscle;
Sony Vegas™ Movie Studio HD Platinum
Acid™ Music Studio
DVD Architect Studio 5.0
Sound Forge™ Audio Studio 10.0
Photo Go 1.0
Additionally the Sony VAIO C notebooks come with Adobe Acrobat Standard, a $548 value.
Another nice feature is the ability to use your VAIO C series laptop to connect to your PlayStation 3 or Bravia television and control you menus using the keyboard on your VAIO.
The Sony VAIO C notebooks will be available on March 13th from SonyStyle and select retailers starting at $880.
Advertisement