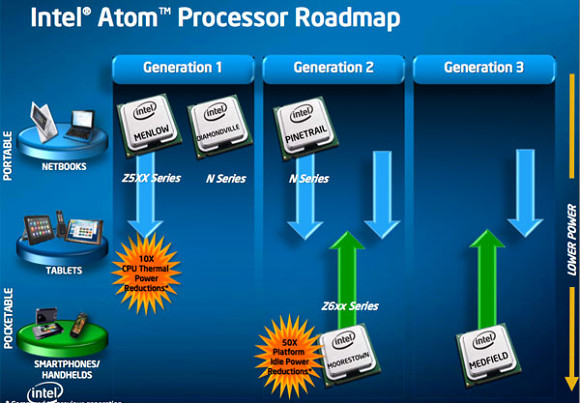 Heating up the mobile CPU war with ARM-based chip designs, Intel has shown off its Medfield processor design, which the company hopes to deploy into smartphones, handhelds, and tablets–spaces that ARM has dominated over the years.
Intel says that Medfield offers better performance as the system on a chip utilizes a new 32 nm manufacturing process that combines the Medfield CPU and the chipset into a single die compared to the older generation Moorestown design, which utilizes a separate CPU chip (45 nm) and chipset (65 nm) design. By integrating the chip and the chipset, the Medfield SoC will offer greater performance while reducing power consumption, leading Intel to claim that it is the most efficient mobile chip architecture in the world with the longest usage time in between charging.
The chips will begin to ship to manufacturers by the end of the year.
Via: GSM Arena
Advertisement