Many people have a slew of icons for the many applications used on their Mac OS X computers. Instead of having a huge row of tiny icons, it might be advisable to organize them a lot like one would an iOS device, in folders.
Adam Dachis has a great post at Lifehacker about how to do this. The philosophy he and many use to organize their iPhone, iPod Touch or iPad is put the most frequently used apps in the iOS Dock (the row at the bottom that is always visible). Then use a the first page on the Home Screen for the second category of often used apps, but not as important as those in the Dock. A third category is little used apps that need to be available but won't get opened much. These are put in folders based on the category of the apps on the second or third page of the iOS Home Screen.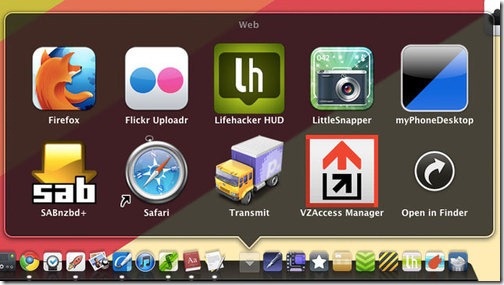 In the Mac OS X Dock, which is the row of icons always present at the bottom of the screen by default, one should organize icons similarly. For example, let's say the most used applications are Finder, System Preferences, Safari and Pages. Put those four together in once place – possibly all to the left end of the Dock. Then organize all the other apps into folders based on categories, like Internet, Office, Entertainment, Music, Games or Utilities. There are a couple of icons that point to the Applications and Downloads folder by default. Maybe you could add a third for Documents or Pictures.
The video below shows how to actually make the icons that contain the stacks of application icons called App Stacks.
The icons mentioned in the video can be found at the Icon Factory.
Advertisement