The new Twitter for Mac app that debuted with the Mac App Store has a great feature that allows the user to Tweet almost anything with just a right click in many OS X apps.
We first discovered this feature thanks to a post at MacStories. The way it works, once installed, Twitter inserts the Tweet command into the right click context menu of almost any application on your system.
For example, if you want to tweet the URL of this article, highlight it and right click it and choose Tweet.
Unfortunately it doesn't shorten the URL. This could be handy if you find a quote on a web page or in some other application that you wish to send out to your Twitter followers.
The command doesn't work in most of the non-Apple apps that I tested, nor did it work in Pages. But it did work in Text Edit and the Dictionary app.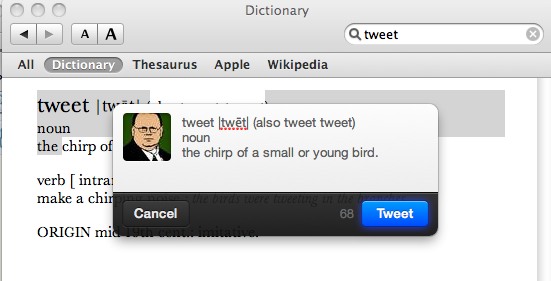 Advertisement