The Samsung 9 Series laptop caught our eye at CES 2011 with a sleek design including a brushed black lid that gives the Series 9 a look that's sexier than the MacBook Air. It's not just beauty though, the 9 Series has a new Intel Core i5 processor and 128GB SSD — all in a package under 3 pounds.
Combine the power and looks with USB 3.0, Bluetooth 3.0, a wide viewing angle display, backlit keyboard and 6.5 hours of battery life and it's clear that the Samsung 9 Series is the thin and light Windows users have been waiting for.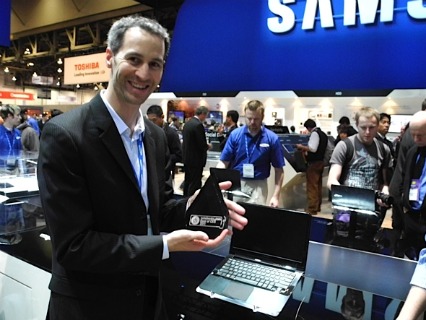 The Samsung 9 Series is the Best Premium Thin and Light notebook of CES 2011. Scott Ledterman Director of Mobile Computing Product Marketing accepted the award next to the Samsung Series 9 notebook display at the Samsung booth.
Advertisement