Apple released a big update to their iWork 09 suite with improvements focused primarily on Keynote and iWork.com. One of the most significant parts of this is the iWork.com site will be able to display Keynote presentations with plenty of transitions supported.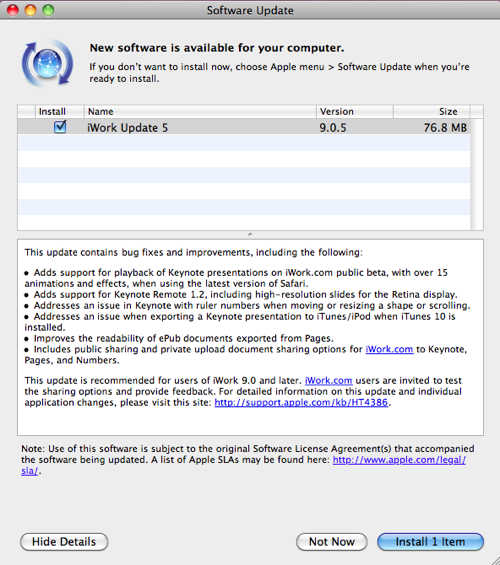 Other improvements are as follows: (from the update info in Software Update accessible from the Mac menu in OS X).
This update contains bug fixes and improvements, including the following:

Adds support for playback of Keynote presentations on iWork.com public beta, with over 15 animations and effects, when using the latest version of Safari.
Adds support for Keynote Remote 1.2, including high-resolution slides for the Retina display.
Addresses an issue in Keynote with ruler numbers when moving or resizing a shape or scrolling.
Addresses an issue when exporting a Keynote presentation to iTunes/iPod when iTunes 10 is installed.
Improves the readability of ePub documents exported from Pages.
Includes public sharing and private upload document sharing options foriWork.comto Keynote, Pages, and Numbers.

This update is recommended for users of iWork 9.0 and later. iWork.com users are invited to test the sharing options and provide feedback. For detailed information on this update and individual application changes, please visit this site: https://support.apple.com/kb/HT4386.
Advertisement