Best Buy will be selling a Nintendo Wii and Samsung HDTV bundle for just $399.99 on Black Friday. If you want this Black Friday deal you'll need to line up extremely early as quantities will be limited.
The Samsung 32″ HDTV has an MSRP of $444.99, but has been marked down to $327.99  recently. The Nintendo Wii retails for $199.99, which puts the total value of this bundle at $497.98. That means you'll save $127.99 on this deal, a good chunk of change if you're already in the market for these two items.
According to Best Buy, each retail location is limited to 40 Nintendo Wii and Samsung 32″ HDTV bundles. Best Buy is not listing a minimum quantity at each store as it normally does on its Black Friday doorbuster items. This could mean that your local Best Buy store will be selling far less than 40 if it doesn't have enough stock on hand on Black Friday.
Regardless of how many of these bundles your local Best Buy has, you'll need to be towards the head of the line if you hope to score a new HDTV and Nintendo Wii for $399.99. Best Buy employees will hand out a maximum of 40 people  tickets to a maximum of 40 people. These Best Buy tickets have barcodes and you won't be able to purchase the Samsung HDTV and Wii bundle without one.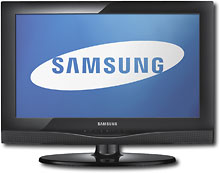 The Samsung 32″ HDTV (model number LN32C350D1D) is a mediocre television and should not be confused with Samsung's high-end TVs. It will be fine for a small to medium sized living room or a bedroom. One thing to note is that the Samsung HDTV is only capable of playing 720p HD content, not full 1080p HD content. That's fine considering the Nintendo Wii outputs only 720p content, but it may make a difference if you play on hooking up your Blu-ray disc player or PS3 to this TV.
Another negative about this Samsung HDTV is that it only has a 60Hz refresh rate. That's the slowest currently available and more expensive HDTVs have a refresh rate of 120Hz, 240Hz or more. The 60Hz refresh rate means that you may see motion blur when watching sports or fast action on the Samsun HDTV.
Keep in mind that the first person in line at Best Buy has the first right of refusal for all tickets. He or she, could for example take a ticket for each and every doorbuster item. The second person in line could do the same, and so on. This means that people are relatively close to the head of the Black Friday line will miss out on all of the best deals. If you show up later than the first several dozen people on Black Friday, you will probably miss out on all of the best Black Friday doorbuster deals.
Many of the die-hard Black Friday shoppers, whom are willing to skip Thanksgiving dinner, will be shopping on behalf of others and buying an inordinate number of gadgets for themselves and family members. Others will be trying to turn a profit by selling their Black Friday purchases to those who missed out on the Best Buy deals on sites like eBay and Craigslist.
In order to avoid one of the biggest Black Friday ripoffs, we highly suggest purchasing affordable HDMI cables for your HDTV and Wii before heading to Best Buy on Black Friday. If you do need to purchase an HDMI cable at Best Buy, ask for the cheapest one that they have in stock, which should be less than $13. Avoid $40, $60 and $150 HDMI cables like the plague.
We don't encourage buying bundles unless you genuinely want all of the items in the bundle. Before buying this as a gift, you may want to make sure your child (or other loved one) wants a Nintendo Wii rather than an XBOX or PS3.
Visit this page for a full list of Best Buy Black Friday deals. You can also visit the Notebooks.com Black Friday page for deals from more stores and guides to the big day.
Advertisement