Best Buy will be selling a 15.6″ Toshiba Satellite C655D-S5089 laptop on Black Friday for just $189.99 This may be the first laptop to sell out on Black Friday as it's the only full-sized laptop priced at under $200 at Best Buy on Black Friday. This Toshiba Satellite laptop is normally priced at $449.99, which means Black Friday buyers will save $260, or nearly 58%.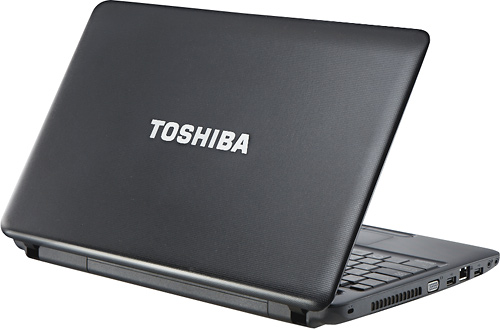 Best Buy's doors will open at 5am on Black Friday, but if you plan on getting a Toshiba Satellite C655D-S5089 you'll have to line up much, much earlier. According to Best Buy's ad, there will be a minimum of just three Toshiba C655D-S5089 laptops at each store. While there's a limit of one Satellite C655D-S5089 per customer, it's entirely possible that the first three folks in line at Best Buy will snag them. Some Best Buy locations will have many more Toshiba Satellite C655D-S5089's on hand, but there are no gaurantees that your local Best Buy store will have one waiting for you.
The Toshiba Satellite C655D-S5089 is an entry-level consumer notebook. It's full sized and has all of the standard features you'd expect on a laptop, including a DVD drive. The display measures 15.6″ (measured diagonally), which is the most common size in consumer laptops. The Toshiba Satellite C655D-S5089 isn't incredibly heavy, but still not light enough to tote around all day.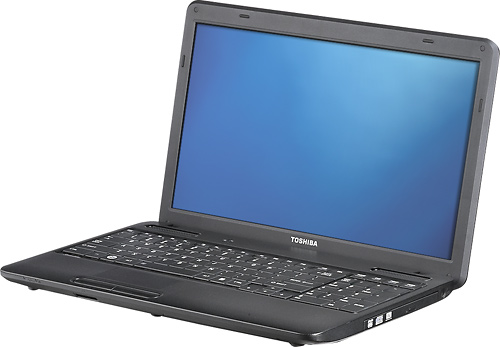 If you're on a very tight budget and looking for a basic laptop this will be your best option on Black Friday at Best Buy. There are several other netbooks and notebooks selling for under $250 on Black Friday, but we haven't found anything that can beat this Toshiba Satellite from a value perspective. Most PCs priced under $250 on Black Friday are netbooks, which are more portable, but much less powerful. The 15.6″ eMachines eMEs28-2325 from Wal-mart will cost $198, which is on par with the Toshiba Satellite.
Here is a video walkthrough of a version of a Toshiba Satellite C655D series laptop.
Toshiba Satellite C655D-S5089 Specs and Details
The Toshiba Satellite C655D-S5089 is a retail model of the Toshiba Satellite C655D series. You can compare this laptop to any Toshiba C655D series laptop, even those sold by retailers other than Best Buy. This series is not exclusive to Best Buy, but the specific model (Satellite C655D-S5089) may be difficult to find elsewhere.

The Satellite C655D-S5089 comes withan AMD V-series processor that runs at 2.3GHz. While AMD produces some very powerful processors, this is not one of them. This processor is sold with affordable laptops and is designed to handle most common computing tasks.
In the storage department, the Toshiba Satellite C655D-S5089 comes with a 320GB hard drive. That's plenty of space for dozens of HD videos, hundreds of thousands of photos and all but the larges music collections. Some laptops come with 500GB or larger drives these days and you may want to opt for one of them if you like trucking around all of your multimedia at once.

The Satellite C655D-S5089 comes with 3GB of memory, which is plenty to run Windows 7 and most applications. If you're going to run several multimedia applications at once you may need more memory, but memory upgrades are relatively affordable these days. The standard 3GB of memory will serve most students and home users just fine.
One red flag that caught our eyes is that the Toshiba Satellite C655D-S5089 does NOT come with a built-in webcam. Webcams are pretty much standard issue these days. You will not be able to make video calls or take pictures with a Satellite C655D-S5089 unless you attach a USB webcam. The lack of a webcam may be a dealbreaker for some Black Friday shoppers.
Another thing Black Friday shoppers should know before buying the Satellite C655D-S5089 is that it is not well-suited for playing the latest video games. It comes with ATI Mobility Radeon HD 4250 graphics, a  solution that will be fine for playing back content, but is underwhelming to play  graphically intensive video games.
While the Toshiba Satellite C655D-S5089 does have a decent assortment of ports, including a VGA port, it does NOT have an HDMI port. This is yet another deal breaker for many consumers, whom often want the flexibility of displaying content from their PCs onto their HDTVs, all of which come with HDMI ports.
Here are the technical specs from Best Buy:
Toshiba Satellite C655D-S5089 Specs
Warranty Terms – Parts 1 year limited
Warranty Terms – Labor 1 year limited
Product Height 1.5″
Product Width 15.1″
Product Weight 5.5 lbs.
Product Depth 11″
Processor Brand AMD
Processor AMD V-Series
Processor Speed 2.3GHz
Battery Type 6-cell lithium-ion
Display Type High-definition widescreen TFT-LCD with TruBrite technology (1366 x 768)
Screen Size 15.6″
Cache Memory 512KB on die Level 2
Type of Memory (RAM) DDR3
Hard Drive Type SATA (5400 rpm)
Computer Hard Drive Size 320GB
Optical Drive Double-layer DVD±RW/CD-RW
Digital Media Reader or Slots Yes, digital media card reader
Graphics ATI Mobility Radeon HD 4250
Video Memory 256-1405MB dynamically allocated shared
Built-in 10/100 Ethernet LAN (RJ-45 connector)
Wireless Networking Wireless-B+G+N
Speakers Internal
PCMCIA Slots None
Laptop Weight 5.5 lbs. or less
Battery Life Not available
Pointing Device TouchPad with multitouch control and enable/disable
HDMI Output No
Blu-ray Player No
Operating System Windows 7 Home Premium 64-bit
Included Software Microsoft Silverlight; ReelTime and more
Drive Capacity 320GB
Graphics Card ATI Mobility Radeon HD 4250
For more information about Black Friday, visit the Notebooks.com Black Friday page. We've included several guides on making the most of Black Friday and compiled a full list of Black Friday laptops.
Advertisement