As we previously reported, there seems to be a problem with the iPhone 4 glass. Now SquareTrade, a company that sells extended warranties of electronics including the iPhone 4, has a study that shows the iPhone 4 glass breaks 82 percent more often than the previous generations of the iPhone.
There were 20,000 iPhone 4 accidents in the first four months of the life of the new phone. 4.7 percent of all iPhone 4 owners have reported an accident compared to only 2.8 percent of iPhone 3GS owners in its first four months. The company is guessing that over 15 percent of owners will report an issue in the first year compared to just under 8 percent for 3GS owners.
As Laptop Magazine writer Dana Wollman suggests, Apple cannot be help responsible for people dropping their iPhone. However, if the iPhone 4 design leads to an increase in breaks, then the court of public opinion may hold the company responsible.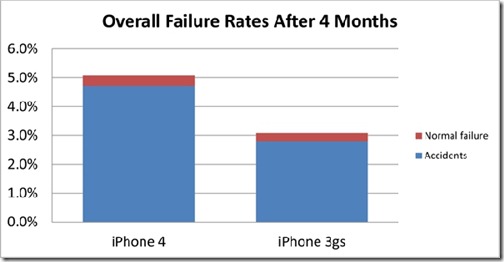 Wollman cited the same article from Ryan Block of gdgt that we cited in our previous report of this issue. He offered evidence that suggests the back glass of the iPhone 4 might have a flaw which is exacerbated by slide on cases with particles of dirt or other objects scratching the glass and eventually becoming a full crack.
Advertisement