Lenovo announced a milestone in the company's ThinkPad line today of 60 million ThinkPads sold over the past 18 years of computing. According to the announcement not only has the ThinkPad product been the recipient of over 2,00 design awards it is also a product of many firsts including the first spill resistant keyboard and the first laptop to fly in space.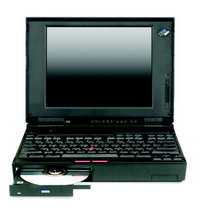 Other ThinkPad firsts include;
First with built-in CD-ROM (ThinkPad 755 shown to the right)
First with built-in DVD-ROM
First with built-in wireless
First with embedded security subsystem
First with built-in fingerprint reader
First thinnest, lightest full-function 13-inch laptop
First dual screen mobile workstation
Keep in mind that when Lenovo claims that the ThinkPad was the "First thinnest, lightest full-function 13-inch laptop", this category is being defined as "including technologies such as built-in DVD burner, selection of USB ports, Ethernet connection, replaceable battery and more." as of February 2008. And the first dual screen workstation claim refers to an actual workstation, not taking into account any novelty dual screen notebooks which may have come earlier.
Starting with the ThinkPad 700c in 1992 that came with a 10.4″ color screen and stretching to the most recently announced ThinkPad T410, T410s and T510 notebook upgrades which Lenovo claims are the first business focused laptops with NVIDIA Optimus technology the ThinkPad lineage is paved with many recognizable machines. You can view the ThinkPad timeline here to see all of the major milestones in this quintessential business notebook line.
In addition to selling 60 million ThinkPads in the past 18 years Lenovo also announced that 14 ThinkPads are sold every minute which means in the time it took you to read this announcement another couple dozen ThinkPads are on their way to the business world.
Advertisement