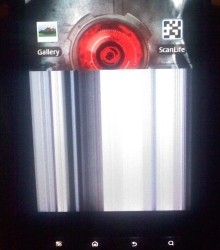 Reports found in various phone forums point out that some Verizon customers are experiencing issues with the Motorola Droid X's 4.3-inch display. Though it does not appear to be a widespread issue, affected Droid X displays flicker rapidly and experience vertical banding.
Verizon Wireless sold out of Motorola's latest handset, the Droid X, soon after the phone was released. Featuring a large 4.3-inch multitouch display, the Droid X is the vastly anticipated sequel in Verizon's Droid line-up. Upon release, early purchasers complained about the handset's bootloader issue. Though Motorola responded to that issue, it looks as though another one may be at hand.
Across multiple phone forums, Droid X users are complaining about a faulty display. The symptoms experienced are rapid flickering as well as vertical banding over all or part of the display. Motorola and Verizon have yet to comment on the current issue. It does not appear to be an extremely widespread issue, but how many handsets are affected it unknown. Below are demonstrations of the issue.
The Motorola Droid X is currently available from Verizon Wireless for $199 with new two-year contract. However, the phone is backordered and not expected to ship until August 3rd.
Via MobileCrunch
Advertisement