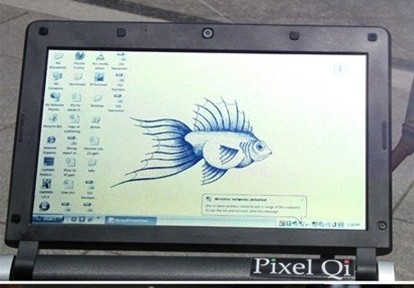 The Pixel Qi 10.1-inch outdoor readable display is now available, allowing netbook owners to upgrade their screen to a dual-mode display. The bad news is that the first batch of the $275 DIY upgrade kits have already sold out, less than 24 hours after their release.
The Pixel Qi display has successfully been tested on the Samsung N130 and Lenovo IdeaPad S10, making these two netbooks the only ones that Pixel Qi is guaranteeing compatibility with. However, it should work with many other 10.1-inch netbooks.
The advantage of the Pixel Qi display is that it offers dual modes. In full color mode, the display looks like any other LCD display, offering backlighting for low-light environments. When switched to the e-paper mode, the backlight is turned off and you are left with an energy-efficient display that can be easily viewed in direct sunlight. This is very similar to the screen found on eBook readers such as the Amazon Kindle. This mode increases the contrast of the screen and converts the picture into a near black and white mode, achieving nearly five times more battery life. See the demonstration of switching between the two modes in the video below.
Though currently sold out, the Pixel Qi DIY display upgrade is available from MakerShed for $275.
Via Liliputing, Engadget
Advertisement