If you travel a lot and have a notebook that runs hot or just want a better typing angle, a laptop stand is almost a necessity. The angle of a notebook stand isn't just more ergonomic, it also helps you see the screen in many settings and in turn get more done. Unfortunately most laptop stands are too big for travel, but not all of them. The AViiQ portable laptop stand is, according to the manufacturer, the world's thinnest, measuring in at just 1/4″ when folded for travel.
For reference, 1/4″ is about the thickness of a standard BIC pen, which is to say this laptop stand is pretty darn thin.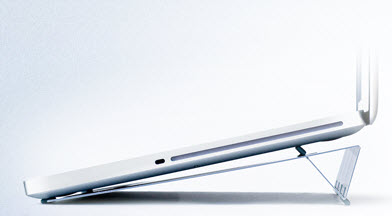 The stand, which is made of an aluminum-polypropylene hybrid called Hylite, weighs 5.5 oz, will unfold to raise your laptop to a 12 degree angle. The unfolded stand supports up to a 17″ laptop and thanks to an open bottom can dissipate heat that would otherwise heat up your lap.
You can see a short demonstration of the AViiQ below:
The AViiQ is $79.95 and looks like a great travel accessory, but I'm curious as to how sturdy it is when in use for heavy typers.
Advertisement