NVIDIA has announced that it will be converging future NVIDIA Verde GPU drivers across the desktop, notebook and Optimus optimized computers and will be releasing a notebook that is ready to be connected directly to a 3DTV.
Beginning with release v256 the NVIDIA Verde drivers, notebook users with NVIDIA Verde compatible GPUs will be able to enjoy the same benefits at the same time as desktop users which will make for many happy mobile gamers. Especially since the NVIDIA Verde drivers already deliver up to a 30% boost in game performance, higher playable frame rates (>30FPS) on many games and unlock up to 5x GPU Acceleration on multimedia applications.
The Verde drivers also already extend 3D VISION support to Notebooks thanks to the latest NVIDIA Verde v197 release and now NVIDIA is planning a NVIDIA 3DTV Play-Ready PC.
This NVIDIA 3DTV Play-Ready PC will be a Notebook PC with a GeForce GPU that will be able to connect directly to a 3DTV via an HDMI connector for 3D multimedia and gaming. These notebooks will not need a 3D Vision Kit, but will make use of NVIDIA 3DTV Play Software to support gaming on all 3DTVs that support HDMI 1.4a/1.4 including both active shutter and passive polarized sets.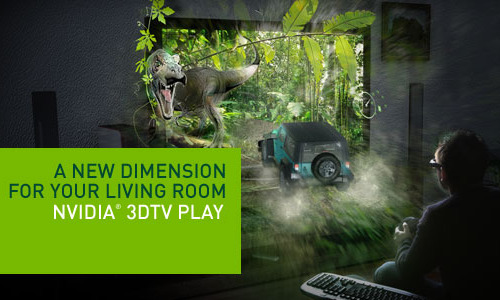 It is exciting to see the proliferation of 3D gaming in the PC gaming arena and while 3DTVs remain out of many consumer's price range, this new technology from NVIDIA is already making the case for 3D displays in the home. I can't wait to see where NVIDIA takes 3D entertainment.
Advertisement