Do you often use public computers or Internet cafes to check your email, log into social networking sites or other important websites?  If so, do you take enough precaution to make sure your keystrokes aren't being logged by key loggers or screen loggers? If you don't know what you're looking for it can be difficult to find keyloggers and other items that can compromise your privacy.
What is a KeyLogger or Screen logger application: A Keylogger or Screenlogger is a software program which runs as background/hidden task on computer without your knowledge. Keyloggers could also be a small hardware device attached to your keyboard. Keyloggers can record every single key stroke entered by individual and eventually gather the information like a userid, password and site names.
A Screenlogger is very similar to keylogger applications. Apart from key logging functionality, Screenloggers are also capable of logging of your every activity in form of a screenshot. These applications runs in stealth mode and doesn't show up on system tray and task menu, start programs list.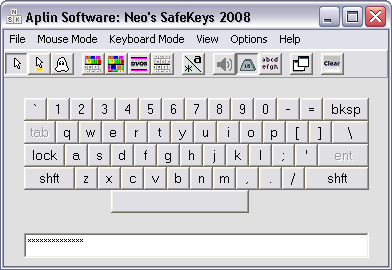 Neo's Safekeys: With the free Neo's Safekey application you can avoid keylogger and screenlogger applications that record your activities. This program provides the mix of security and utility when entering passwords, credit card numbers, bank account numbers on public computers or public Wi Fi. One great security idea to remember is that you should avoid entering credit card and bank numbers on public computers and public Wi-Fi connections. Neo's Safekey is very light on memory and doesn't take much space to install. You can carry this software along with you on a USB drive and can install in the public computer to protect your users id and password from hackers.
Some of its notable features are below:
Drag and Drop Passwords: It can transfers your passwords by dragging and dropping from Neo's Safekey to the destination program (eg. Mozilla Firefox, IE, Chrome).
Protected password Field: Passwords are protected behind '*', so key logger application can read only '*' in place of actual password.
Different password entry method: There are couple of method by which you can enter password using Neo's Safekey
Scramble the on screen keys and key board input: This mode randomly scrambles the keys on the on-screen keyboard, as well as the entry from the real keyboard. The real keyboard matches the on-screen keyboard. So Keyloggers doesn't have any way to map the key.
Dvorak layout for on-screen keys and keyboard
Hide Password among random characters.
Password Mask
Please note that Keyloggers and Screenloggers are not the only way to know your user id, password. There still some ways which hackers can use to steal your userid and password but you'll be safer if you use an application like this when browsing on public computers.
Advertisement