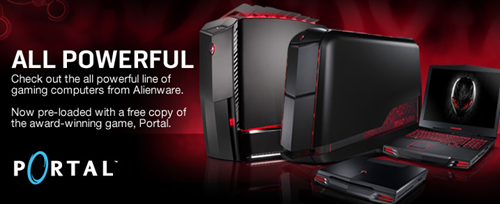 If you are serious gamer, it's unlikely that you haven't already played Portal, one of the more innovative games to come out in the last few years… still, high-end gaming rig creator Alienware has teamed up with the popular game downloading platform Steam to offer machines with Steam pre-installed, along with a free copy of Portal, which I can personally recommend as a great game with a style and gameplay that is all its own. Take a look at a Portal trailer below:
Don't be fooled, the inclusion of Steam is not crapware, Steam is the largest game distribution platform for PCs to date, giving players access to some 980+ games. If you are a serious gamer, having Steam pre-installed on your new Alienware machine means just one less step before you can get your game on, and getting a free copy of a highly regarded game isn't so bad either.
Don't forget to check out Xavier's review of the Alienware M17x if you are looking at buying one of their gaming notebooks.
via Joystiq
Advertisement