Verizon will begin selling the Gateway LT2016u netbook for $149.99 this weekend. In order to get this discounted price you'll need to sign up for a two-year 3G contract and redeem a $100 rebate. The Gateway LT2016u may look familiar because it is nearly identical to the Acer Aspire One D250.
The Gateway LT2016u has the usual netbook specs. It comes with a 1.6GHz Intel Atom processor, 1GB of RAM, a 160GB hard drive, 10.1″ display, XP Home and a six cell battery.
Verizon offers two 3G contracts for netbooks. The $39.99 per month plan includes 250MB of data. Each additional MB of data costs 10 cents with the $39.99 per month plan. The $59.99 per month plan has a 5GB allowance, which should suffice for most users. Additional usage costs five cents per MB.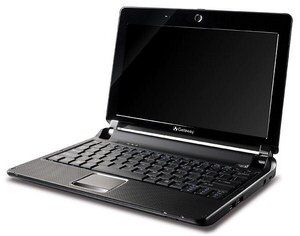 Regardless of which plan you choose you'll want to keep tabs on your usage. An extra GB of usage will set you back at least $50.
Here's the full press release from Gateway and Verizon:
VERIZON WIRELESS EXPANDS NETBOOK LINEUP WITH FIRST GATEWAY NETBOOK

Gateway LT2016u Netbook Available In Verizon Wireless Communications Stores Nationwide On Oct. 4

BASKING RIDGE, N.J. Verizon Wireless and Gateway announced today that the Gateway LT2016u netbook now comes with Verizon Wireless' Mobile Broadband service built into the device. With Mobile Broadband, Verizon Wireless customers can stay in touch and remain productive in more places using Verizon Wireless' 3G network, the nation's largest and most reliable. Available Oct. 4, the Gateway LT2016u provides continuous access to the Internet so Verizon Wireless customers can check e-mail, update their social networking sites and blogs, browse Web sites, and post video to the Web using the integrated webcam.
Available color: Chassis color is Night Sky Black

Lifestyle features:
• 10.1-inch high-definition WSVGA LED backlit display that is large enough to easily view multiple windows and Web sites
• Comfortable to hold and easy to transport, the Gateway LT2016u fits neatly into a purse or backpack and is fashionable with its modern silver trim accents
• Comes with an extended 6-cell battery that provides battery life of up to six hours
• Uses the Intel® Atom(TM) N270 processor that promotes power efficiency to deliver excellent mobile performance and wireless connectivity on the go
• Well-equipped with a full 1 GB of memory, 160 GB of hard drive space, and a digital media card reader

Key specifications:
• 10.1-inch SD 1024 x 600 resolution TFT LCD
• Intel Atom N270 processor (1.60 GHz, 512 KB L2 cache, 533 MHz FSB)
• 1 GB DDR2 533 MHz SDRAM
• 160 GB hard disk drive
• Multi-in-one card reader: SD, MMC, RS-MMC, Memory Stick, MS Pro, and XD
• Optimized Dolby Headphone technology and two built-in stereo speakers
• Built-in digital microphone
• Integrated 0.3 megapixel webcam
• Wireless broadband connectivity: 3G
• Wi-Fi: 802.11 b/g
• Ports: USB 2.0, headphone out, microphone in, Ethernet, and VGA
• Dimension/Weight: 10.17" (l) x 7.24" (d) x 1.03" (h); 2.95 lbs.
• 6-cell battery
• Windows XP Home Edition

Price and availability:
• The Gateway LT2016u will be available online at www.verizonwireless.com and in Verizon Wireless Communications Stores beginning Oct. 4 for $149.99 after a $100 mail-in rebate with a new two-year customer agreement. Customers will receive the rebate in the form of a debit card; upon receipt, customers may use the card as cash anywhere debit cards are accepted.
• Customers can select from various price plans for Mobile Broadband access:
o $39.99 monthly access for 250 MB monthly allowance and 10 cents per megabyte overage
o $59.99 monthly access for 5 GB monthly allowance and 5 cents per megabyte overage
Advertisement