Two screens, count 'em; 1, 2. That's right; gScreen, a new manufacturer from Alaska, showed off the gScreen Spacebook which will soon be one of the few dual screen laptops to make it to market and possibly the only one to feature 2 full size screens. While the product has been talked about for a while, Gizmodo was able to get details and pictures of the dual headed beast and well, it's impressive and huge!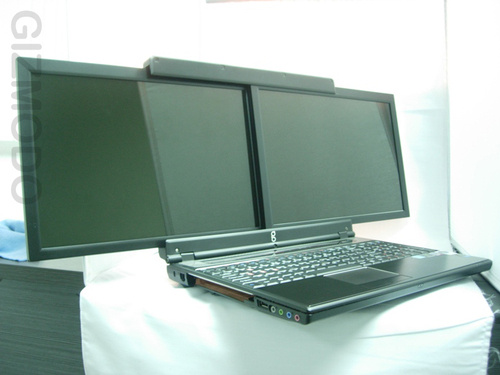 Visit Gizmodo for more pictures of the gScreen Spacebook
The laptop works much like the sliding doors you'll find on a closet so you'll always have an extra screen, but you don't have to use it if you're just checking your email.
Owner Gordon Stewart told Gizmodo that the company, plans to have the first Spacebooks being sold through Amazon.com by December of this year." The first models will feature 16" or 17" screens and should retail for under $3,000. They also hope to offer a 13" model in the future.
All that beautiful screen real estate won't come without some drawbacks, most noticeably the estimated 12 pound heft that the 15.4" prototype carried with it, but if you absolutely must have 2 screens on the go and can't make due with a 7" Mimo monitor or the Lenovo W700ds that's a price your back will have to pay.
If you're not a fan of the slide out secondary display take a look at these other dual display laptops on Mashable.
Advertisement