Rob Bushway blogged about his first day with the Verizon MiFi router today at GottaBeMobile. The combo 3G card/WiFi router looks like it fits the bill for Rob's highly-mobile lifestyle. The MiFi seems like the perfect device for Rob, who uses a variety of mobile devices and always has a kid (or four) in tow. The MiFi router can be used to provide mobile broadband to up to five devices at a time.
I'm very happy with my Compass 597 USB card, which I often plug into my Cradlepoint router, but I'm strongly considering picking up a MiFi after reading Rob's initial review. One thing I like about the MiFi is that it can be charged via any computer's USB port. The Cradlepoint router I have needs to be plugged into a power outlet or a car charger.
As you can see in the picture to the right, Rob's using the Verizon MiFi router to create a mobile hotspot in his vehicle, which should help him get more value out of his 3G subscription.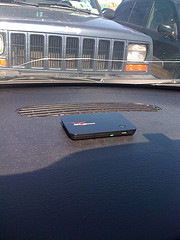 Advertisement