Today we're kicking off our HP Magic Giveaway contest and hope you'll help spread the Magic in the spirit of the holidays. As of right now you can enter the contest and win a prize package that includes $6,000 worth HP and Microsoft gear.
UPDATE: The contest is closed as of noon on 12/12/08. Other contests are still running. Please click here for a full listing of other sites where you can still enter to win.
There are a variety of ways you may enter the contest, all of which are free and open to anyone in the world as long as participating in a giveaway like this is legal in your locale.
We thought a lot about how we would pick a winner and decided we wanted to leave it up to chance, but allow our readers to improve their chances by completing a variety of tasks. This means you may enter an unlimited number of times if you reallllllllyyyyyy want to win four computers and the rest of the gear for yourself, your family or your organization.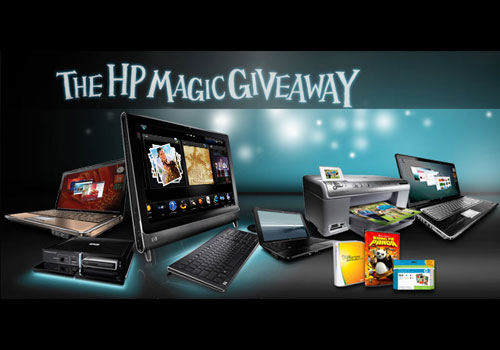 The more tasks you complete, the more entry points you earn. Think of it like raffle tickets, but instead of buying tickets you jut need to participate in the below tasks.
In the spirit of the holiday season you can earn a significant number of  points by sharing some or all of the prizes with the school(s)/non-profit(s) of your choice. You don't HAVE to designate any of the prize package to go to school(s)/non-profits, but you certainly increase your chances of winning by doing so.
You can spend as little as 10 seconds entering this contest by subscribing to our email newsletter, or countless hours. It's all up to you.
Thank you to HP, Microsoft and Buzz Corps for putting this promotion together and the 49 other great blogs that are participating.
What You'll Win or Give Away:
• HP TouchSmart IQ816 PC
• HP HDX 18 series Premium Notebook PC
• HP MediaSmart Connect
• HP Pavilion dv4 series Entertainment Notebook PC (with Windows Live)
• HP Mini 1000 (with XP)
• HP Photosmart C6380 Wireless all-in-one printer/scanner/copier
• HP 564 Photo Value Pack (extra ink and photo paper for the C6380)
Software
• Microsoft Windows Vista Ultimate/Home Premium or Microsoft Windows XP pre-installed on all units (Mini 1000 runs XP)
• Microsoft Office Home and Student Edition 2007 (Student-Teacher Edition) 1 DVD with 3 licenses
• Corel VideoStudio X2 Entertainment
• Kung Fu Panda (2 widescreen DVDs; 1 widescreen Blu-ray disc)
Total value is over: $6000 (USD)
How to Earn Contest Entry Points:
A) Tasks to enter by spreading the magic to those in need:
You may only complete one of the following tasks. You'll earn a significant amount of entries and get a chance to help those in need. This is the easiest/fastest way to earn a lot of entry points, but you have to be the giving type. If you want to keep the entire package for yourself you can skip this section and start at the next section of tasks.
B) Ways to enter by spreading the word about Notebooks.com's contest or contributing to the site:
You can earn points ONCE from completing each of the following
tasks. Please don't complete any of this tasks more than once or you'll
be removed form the contest:
Comment on this post and tell us what your favorite HP product or Microsoft software/service is and why. (1 point)
Become a fan of Notebooks.com on Facebook. (1 point)
Follow me on Twitter: www.twitter.com/xavierlanier (1 entry point)
Subscribe to Notebooks.com's Newsletter so you can receive updates about the site and alerts to future giveaways. (2 entry points)

Signup for Notebooks.com's Newsletter

Subscribe to Notebooks.com's YouTube Channel. (1 point)
Post a video to YouTube or another video sharing site and tell us why you (or your chosen school/non-profit) deserves the HP Magic prize package. Cut and paste a link to your video here (2 points)
Register for the Notebooks.com forums and introduce yourself. Tell us what kind of tech gear you use. (1 entry point)
Write an article about this giveaway on your own blog, or appropriate web site and include the phrase "Notebooks.com's Magic Giveaway with HP and Microsoft" so we can find it easily. Link back to this post and to https://www.hp.com/united-states/campaigns/blogger-magic/ . You'll have to post a link to the article in our forums. (2 entry points).
Tweet the following phrase: "I entered Notebooks.com's HP Magic Giveaway: $6,000 worth of HP computers and Microsoft software! https://tinyurl.com/5t2z5s" (2 entry points).
Tell us who you'll share the prize package with, what you'll give them and why in the forums. (1 entry point).
Tell us about your dream notebook. Which one would pick if you could have any notebook in the world for free? Click here to complete this task. (1 entry point)
C. You may earn an UNLIMITED number of entries by completing the following tasks as many times as you wish.
Help build the brand spanking new Notebooks.com Wiki.
Write a brief Wiki entry here. Each wiki entry must be related to notebook computers factual, substantial and original. If you need some inspiration or to get an idea of what makes a great wiki visit Wikipedia.org
It must be at least 100 words in length and contain one reliable source. (2 points)
Write substantial Wiki entry that's at least 500 words long, link to at least one other Notebooks.com Wiki page and cite 3 sources. (12 points)
2. Write a "how-to" or "top-10" article that's related to notebooks or technology and submit it to the forum here. All articles must be original and those that are off-topic, plagarized or are otherwise unsuitable for publishing on Notebooks.com will be disqualified. (5 points)
BONUS: If we really like your article and feature it on the home page of Notebooks.com you will earn additional entries. (5 points)
The sorta-fine print:
1) Contest begins December 6, 2008 and entries will be accepted through noon on December 12. A winner will be selected by 11:59pm on November 12 and notified by email.
2) You may only enter once via the following methods: Becoming a Fan of the Notebooks.com page on Facebook, subscribing to Xavier's Twitter feed, joining the forum, completing any of the designated tasks related to the forum, subscribing to the Notebooks.com YouTube channel, sending out a tweet about the contests, subscribing to the Notebooks.com newsletter, blogging about this contest and commenting on this post. It's easy enough for us to spot dupes, so let's keep it fair for everyone.
3) If you want to earn more entry points you may designate a portion of the prize to a school or recognized non-profit as outlined above, or who can help build the Notebooks.com Wiki.
4) Anyone in the world is welcome to enter this contest as long as they aren't named Xavier Lanier, a Notebooks.com contributor/blogger, or any of our immediate relatives (sorry to my wife who wants the TouchSmart and to my Mom who digs the Mini 1000).
5) Each successful entry will be assigned a number and added to a Microsoft Excel spread sheet. The winner will be chosen by using Random.org's random number generator.
6) Some of the products in the package are in new condition, but may have been opened for Notebooks.com to review the items. All computers will be reset to default factory settings, be in new condition and come with full warranties.
7) Notebooks.com will ship the prizes to anywhere in the world. Buzz Corps, Microsoft and HP will cover all shipping costs and if provide compensation to cover taxes if the winner is in the U.S.
8) If the winner indicated he/she will share all or part of the prize package with non-profit organization(s) we will ship the prize package (or a portion of the prize package as the winner designated) directly to the non-profit(s). The donation will be made in your name and it is your responsibility to ask the non-profit(s) for a tax receipt.
8) Notebooks.com reserves the right to modify, amend or change the rules as it sees fit and to exclude any entries/contestants that violate the rules or become a nuisance to the site.
9) The winner will be required to write a guest blog post to tell us how he/she is using the prize and spreading the Magic within 30 days of receiving the products.
10) The winner will be notified by email by 11:59PM (Pacific Time)  on Saturday December 12. He/she will have 36 hours to respond to the prize notification. If the winner does not repsond by Monday December 14 at noon (Pacific Time) an alternate winner will be selected.
11) If we detect any form of deviation from the above rules, fraud or plagirism either before or after the winner is notified we will select another winner.
12) The prize package will be mailed by December 21, 2008 at the latest to ensure you receive it by Christmas.
Advertisement