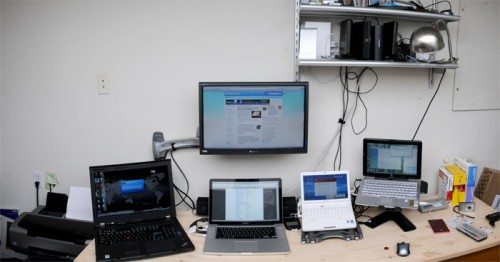 Yesterday I posted a photo of what my desk looks like after doing some organizing and it got me wondering what other mobile tech bloggers had on their desks. I emailed a few bloggers and some of them emailed or posted pics of their desks and gear.
I think it's interesting to see what tech bloggers actually end up using after playing with and writing about so many tech products.
I'm not alone in using more than one computer at a time and as you can see many of us bloggers run multiple operating systems simultaneously. Macs are pretty prominent in tech bloggers' bag of tools, but Ewdison from Slashgear takes the cake with a total of five Macs in his office.
Xavier of Notebooks.com: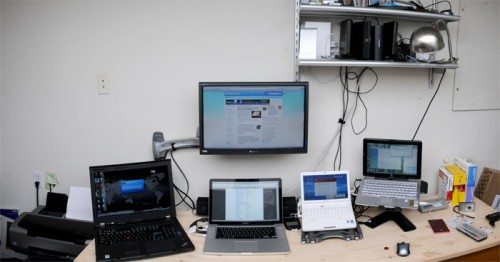 Here's what my desk looks like right now. That's a Lenovo ThinkPad W700 on the left, a new MacBook Pro, an IdeaPad S10 and an HP Pavilion tx2000z on the right. Click here for a full description of my setup.
James Kendrick of JKonTheRun: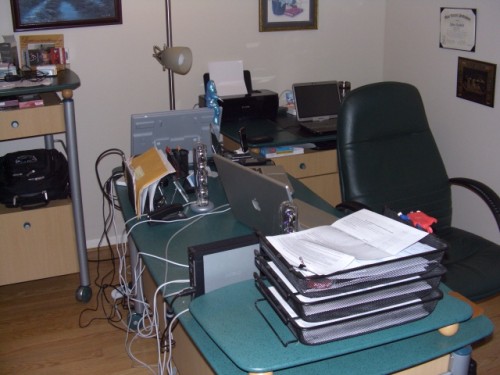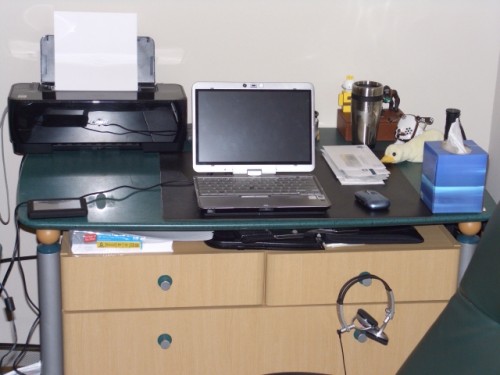 James has a MacBook Pro 17″, MacBook 13″, Canon LIDE 500F scanner, T-Mobile G1, iPhone 3G on his primary Desk.
On a side table is a Canon iP1800 printer (back), Telenav Shotgun (front left), HP 2710p, Kensington mouse, Plantronics Pulsar 590E headset (hanging in front). Click here to read more about his home office.
Brad Linder of Liliputing.com: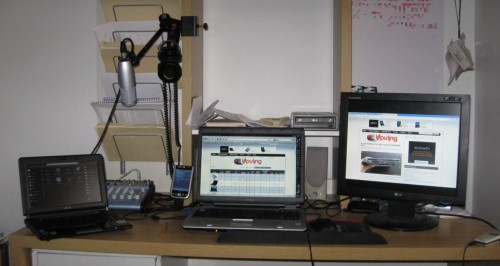 Brad's desk has a an Eee PC 1000H triple booting Ubuntu 8.04.1, Windows XP, and Mandriva 2009 on the left.  Behind it is an Alesis 8USB Multimix 8-channel audio mixer which he uses for audio production. Above that you can see an AKG Perception 100 microphone and Sony MDR-7502 headphones which he uses for recording interviews over Skype and for laying down voice tracks for radio stories and podcasts.
His Toshiba A135-S4527 15.4-inch notebook which is connected to a 17-inch LG Flatron display which is connected to the Toshiba. On the shelf is a Fantom Drives USB DVD-RW drive. There's also a PDA (Dell Axim X50v running Windows Mobile 2003SE) sitting to the left of the Toshiba.
Ewidson Then of Slashgear: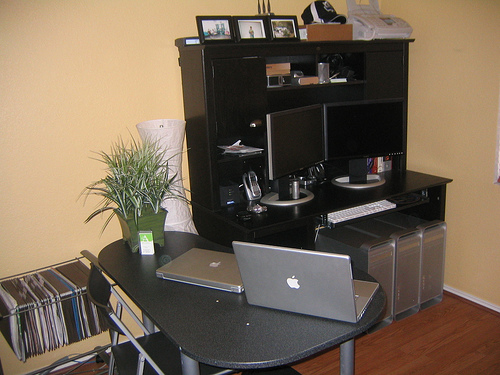 Ewidson's setup is pretty straight forward: cram as many Macs into his workspace as possible. He has a pair of MacBook Pros and THREE Mac Pros hooked up to a pair of flat panel displays.
Rob Bushway from GottaBeMobile: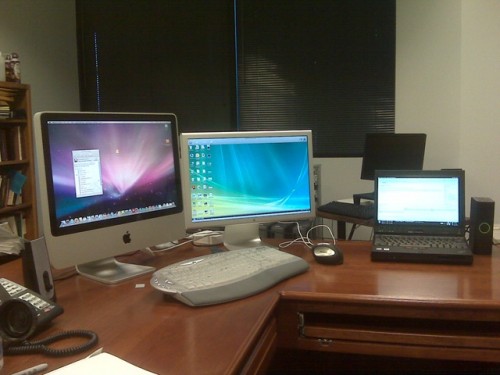 Rob recently made his iMac the centerpiece on his desk. As you can see he's running both Windows and OSX operating systems on his desktop. To the right is a Lenovo ThinkPad X200.
Paul of PaulStamatiou.com: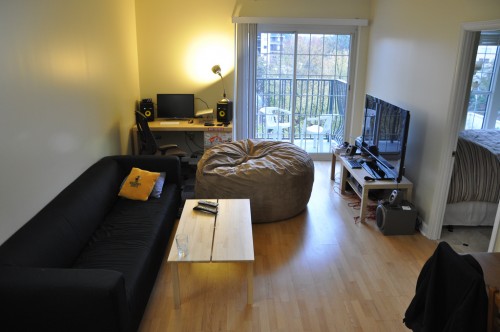 Paul is a college student at Georgia Tech and a tech blogger. He's recently put his desk in his living room and snapped these pics. On the right of the room is his 50-inch Samsung "Touch of Red" Plasma HDTV, which is connected to DirecTV HD, a Vudu box and Linux HTPC with 1.6TB of storage.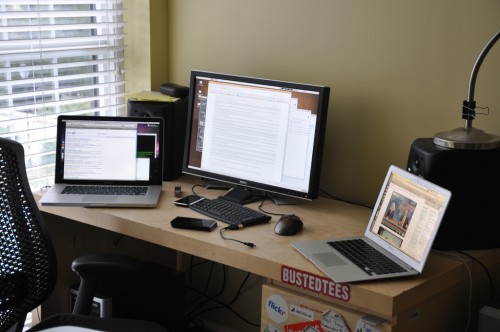 He moved things around slightly between taking the two photos so you'll so not all of the items are in both pics. On his desk is his 2.53GHz MacBook Pro, a MacBook Air, a 24-inch Dell LCD, an Apple wireless keyboard, Logitech G5 mouse, and a Griffin elevator stand. The 2.53GHz MacBook Pro has an Intel X25-M solid state drive. The speakers are Rokit RP5G2 studio monitors, connected to a PreSonus
Audiobox USB external audio interface.
-I'm still waiting for more responses and will add more as they come in.
Advertisement