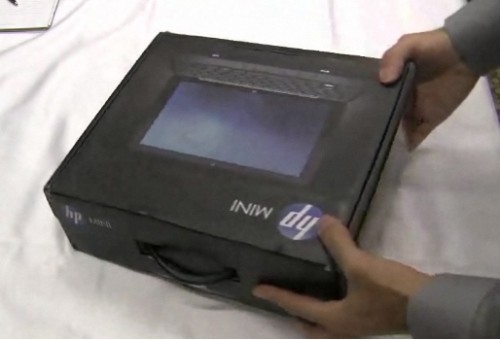 Here's a brief unboxing of a HP Mini 1000. One thing that's cool about the HP Mini 1000's packaging is that it's actually better looking than most of HP's Pavilion notebook lineup.
As you can see in the below video the box has a slightly glossy cardboard finish with four-color printing. This gives it the same premium look that that the HP Pavilion HDX boxes have.
Instead of a manual, the HP Mini 1000 comes with a nice little poster with a picture of a Mini 1000 on one side and setup instructions printed on the other.
The AC adapter is very small and light, which should be expected on such a thin and light computer. The three-cell battery is a cinch to install and the vast majority of users won't even need to red the instructions.
Overall the Mini 1000 has a very pleasant out-of-box experience. Whoever is in charge of the Pavilion dv4, dv5 and dv7 packaging has a lesson or two to learn from this netbook. HP should really make the packaging uniform across the Pavilion line.
To learn more about the HP Mini 1000, please visit our other posts:
1) HP Mini 1000 Video Tour
2) HP Mini Vivienne Tam Edition
Advertisement