Technologizer surveyed a couple thousand iPhone users to gauge their satisfaction and despite numerous issues, the vast majority of them seem to be happy campers.
The respondents answered some pretty detailed questions that give some great insight into what it's actually like to be an iPhone user. More than 80% of the respondents complained that their iPhones sometimes or frequently freeze or crash. Eighty percent complained about slow Internet access and about 60% complained about battery life. About 55% experienced dropped calls and 40% experienced poor call quality.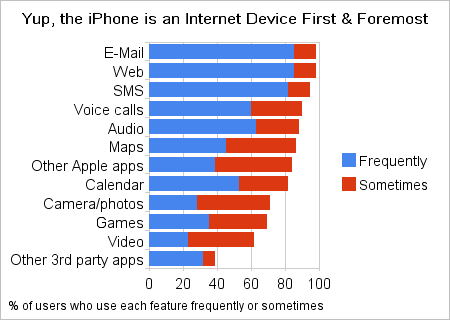 With those kind of numbers, it's a miracle that 91% still said they were satisfied with the iPhone. What's more, 78% said the iPhone was a good or excellent value.
The iPhone is a heck of a lot more than just a "phone," and it seems most users like its slick interface, third-party apps and cool-factor to forgive some of these shortcomings.
I too appreciate all that the iPhone has to offer (I bought the original iPhone the day it launched and have since upgraded to an iPhone 3G), but I think I've experienced just about every issue on Technologizer's list at least a few times. Unfortunately, dropped calls and crappy 3G reception are a daily occurrence for myself and many of my iPhone-toting friends and family.
Check out the details of the survey at Technologizer.
Advertisement