SanDisk unveiled the Vaulter Disk, a solid-state storage solution that works in conjunction with a PC's hard drive to store and launch the computer's operating system and software applications. The new SanDisk Vaulter Disk tag-teams with the hard drive to provide enhanced performance over a PC that has only a hard drive. The Vaulter Disk will be available in 8GB and 16GB capicities for OEMs starting in early 2008.
The Vaulter Disk will allow manufacturers to offer the benefits of Solid State Drives, along with the low cost of hard disk drives. The OS and applications will benefit from the speed and reliability of solid state memory, while user generated content such as music and video can be stored on the hard disk drive.
âہ"This system solution brings SanDiskâ€â"¢s flash performance benefits to the price-sensitive consumer who needs high-capacity storage,â€Â said Doreet Oren, SanDisk director of product marketing for the computing solutions division. âہ"While we make other products for the PC market, Vaulter allows us to expand our offerings,â€Â she added.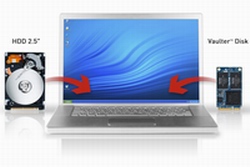 The Vaulter Disk
Advertisement