The single most frustrating thing about switching to a Mac this summer was working with video from my hard disk drive camcorder. But Apple's stepped up to the plate and added support for camcorders that use AVCHD and MPEG-2 formats, greatly improving workflow for users of camcorders that record on either hard drives or DVDs.
I picked up a Sony SR-300 camcorder with 40GB hard disk drive (HDD) earlier this year to speed up my video editing workflow and so I wouldn't have to worry about swapping out tapes. Things were working like a charm on my Windows notebook, but when I switched MacBook Pro importing and editing video became unbearable.
To playback my camcorder's video on my MacBook Pro I had to purchase a special Quicktime plugin from Apple for $19.99. I could watch videos, but in order to hear the audio I had to use Streamclip. To edit my videos I had to export clips from Streamclip in QuickTime or DV formats, then import the converted clips into iMovie.
This took forever, was exhausting and made me regret ever buying the SR-300 to begin with. Many Mac users have avoided Sony, JVC, Canon and Panasonic's DVD and HDD cameras because of this problem, or sold them off after struggling to get them to play nicely with their MacBooks.
I was surprised overjoyed tonight when I found out that iMovie '08 fully supports my camcorder. I went to the Apple store in San Francisco to pick up a copy of iLife '08. I took a seat at the Apple theater and started installing it on my notebook while an Apple employee was giving a presentation about Final Cut. My video editing needs are pretty basic, so I wasn't paying close attention, but I did hear him say something about how Final Cut can import video from nearly any camera, including Sony's HDD camcorders.
After the presentation I told him about my frustrations and asked him if I should upgrade to Final Cut to ease my pain and suffering. Then I heard the sweetest words I've heard in a long time…"Nope don't worry about that, we took care of that in iMovie '08."
After spending countless hours struggling with this problem I asked for clarification. He offered some simple, but great advice. "After you install iLife '08, plug in your HDD camcorder and you'll see all the clips right away. "
That's exactly what happened once I got home and plugged my SR-300 into my MacBook Pro. I'm now able to preview each of the dozens of clips on my camcorder and chose which ones to import. Simple and it just worked! This is much faster than working with tapes or the screwy process I was using before. It took 14.5 seconds to import a three minute clip, but another 1:31 to create the thumbnails used to skim through the clip while editing in iMovie.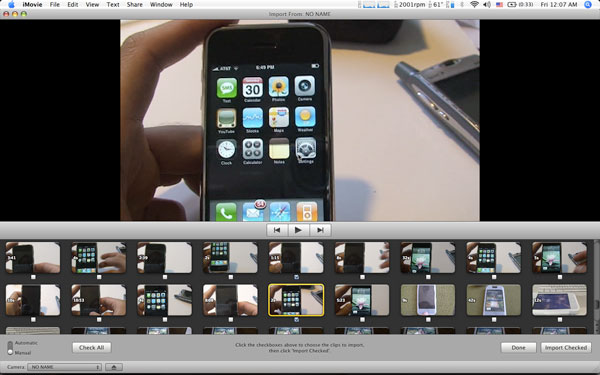 I poked around on Apple's web site and found the below list of hard drive and DVD camcorders that Apple has tested with iMovie '08. If you have similar models and are having trouble importing video, upgrade to iMovie '08 and just give it a shot.
iMovie '08 is far from being a professional solution, but at least I can now view and edit video from my camcorder. iLife '08 comes preloaded on all new Macs or is available for $79 for a single user license.
Brand
Model
Format
Media
Sony
HDR-SR1
AVCHD
HDD
Sony
HDR-SR7
AVCHD
HDD
Sony
DCR-SR82
MPEG-2
HDD
Sony
DCR-SR100
MPEG-2
HDD
Sony
DCR-SR300
MPEG-2
HDD
Sony
DCR-DVD308
MPEG-2
DVD
Sony
DCR-DVD403
MPEG-2
DVD
Sony
DCR-DVD508
MPEG2
DVD
Canon
DC50
MPEG-2
DVD
Canon
DC220
MPEG-2
DVD
Canon
DC20
MPEG-2
DVD
Panasonic
HDC-SD1*
AVCHD
Memory
Panasonic
SDR-S10
MPEG-2
Memory
Panasonic
SDR-S150
MPEG-2
Memory
Panasonic
SDR-200
MPEG-2
HDD
Panasonic
VDR-D300
MPEG-2
DVD
Panasonic
VDR-D310
MPEG-2
DVD
JVC
GZ-MG505
MPEG-2
HDD
JVC
GZ-MG155
MPEG-2
HDD
JVC
GZ-MG555
MPEG-2
HDD
Advertisement