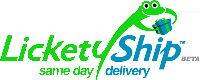 I'm the first to admit I get anxious every time I order something online. Not because I fear having my credit card number stolen or because I think the retailer will rip me off and just not deliver. I get anxious because I never know when my latest gadget will actually arrive. I find myself obsessively punching in tracking codes and checking my mailbox for missed-delivery notifications. It's especially bad during the holidays when gifts I order are delayed.
So when I heard about LicketShip,a service that could deliver gadgets to my office within four hours, I decided to give it a shot. For a $19.99 ($9.99 during the holidays) delivery fee the company will send a messenger over with up to 150 pounds of electronics gear.
The company is in beta mode, delivering a limited inventory of gifts and electronics to Northern California shoppers for the time being.The company's founder says there are plans to expand their catalog and reach in the coming months.Unlike the failed same-day delivery services of the late 90's such as WebVan, LicketyShip doesn't have any warehouses or trucks. Instead, it's partenerd with retailers and courier services to keep operations lean.

"If the Best Buys of the world are spending all this money to make sure products are in customers' backyards, it doesn't make sense to ship electronics all the way across the country,"said LicketyShip CEO Robert Pazornik. "We pair the closest available courier with the closest available product."
Shoppers fill out two forms on LicketyShip.com to get started with their order: "What do you need delivered within 4 hours?" and zip code. LicketyShip'sÂÂÂ  system checks partner stores' shelves in real-time to see if what you're looking for is available. This system is designed for people in a hurry and not for bargain shoppers. Every item me price-checked was more expensive than you can find at Amazon.com or at brick and mortar retailers.
"The big retail sites have not gotten instant gratification down to a science, and that's where we step in," Pazornik said. "They don't necessarily ship it the same day you order it. It can sometimes take a day or two and it's even worse if you order on a Friday or over the weekend. Then you're paying next day fees for two to four day shipping."
As shoppers work their way through the ordering process, the system checks three times to make sure the item can be delivered on time. Once a customer places an order, the items are pulled from the store shelves and packed for delivery. A driver picks up the order and brings it to the customer's door within four hours. If they're not on time delivery is free, just like your late pizzas.
The Test
I poked around on LicketyShip.com for a few minutes and was somewhat disappointed when I couldn't find any notebooks available. I did see several items I want/need and ended up ordering a HP XB3000 notebook expansion base for a HP dv2000z we're reviewing for $263.99.This is above the MSRP of $249.99 and pricing is even worse if you consider that hp.com is offering a $50 rebate on this item right now. Overnight shipping from HP is $22.99, so going with LicketyShip route is going to be $61 (ouch!) more expensive than ordering from HP with overnight shipping.
I also need a new keyboard and settled on the Microsoft Digital Media Pro Keyboard for $36.99. Again the price ended up being more than ordering it online. I found the same item selling for $29.99 at CircuitCity.com, but their so-called Express shipping would've cost $14.97 and take six-days to arrive at my doorstep.
While the stuff I bought today cost a lot more than if I went to a store or bought through another online retailer, the price differential is pretty slim on some items. An XBOX 360 Core is $319.99 (plus $19.99 delivery) from LicketShip and $299.99 (plus $22.99 for next day shipping) from BestBuy.com. So for an extra $17 you can get it today without having to budge from your desk.
My purchase of the base station and keyboard. of $326.65, including $25.67 in tax. The $19.99 shipping fee was waived thanks to a coupon (code:LSFREE)the company is running today.
My order was confirmed at 12:45 PM. About 20 minutes later I received this text message: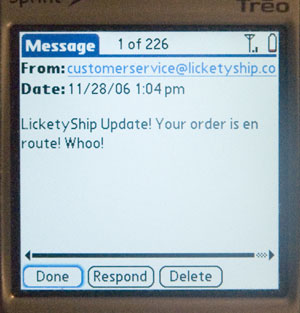 I went over to LicketyShip's customer service page to get an estimated delivery time, but unfortunately the company wasn't manning the Chat room today. A quick call to their 800-number was promptly answered, but it was an employee on a cell phone who was on vacation . The company is still ironing out customer service as they are brand new and still working out the kinks. I was assured they guaranteed delivery by 4:45 PM.
At 3:58 PM this courier shows up and unloads the goods I ordered from the back of a pickup truck. Just three hours and 13 minutes after I placed my order!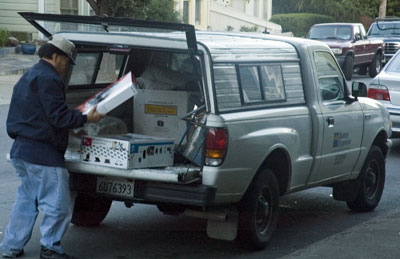 The 'nearest courier' unloading my order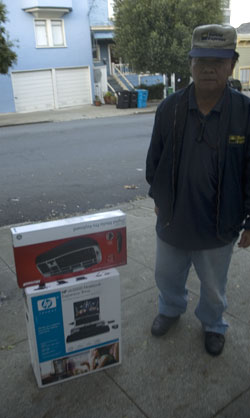 Come on buddy smile! You brought me my stuff in just over 3 hours
LicketyShip doesn't publicly disclose which stores they partner with, but when I signed the form I saw my order came from a Circuit City about three four miles from me.
Bottom Line:
A completely rational and patient person who plans ahead will probably never need to use LicketyShip. But for this is a great service for procrastinators who don't mind paying extra for it. While the service is convenient, the inventory and interface need improvement. A search for "notebook" returns 108 results, none of which are actually a notebook, but notebook accessories and a bunch of HP desktops.
This is a service best used when you're in a pinch and waiting for FedEx just won't do. This is great for the holidays and will keep you from explaining to your kids why Santa didn't bring the gifts on time.
Advertisement