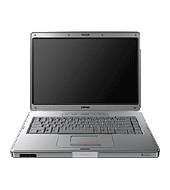 The webâ€â"¢s been buzzing about the Compaq Presario v5305wm which goes on sale tomorrow at Wal-Mart for $398. If you want to get one, youâ€â"¢d better plan on camping out in the parking lot. There will be a minimum of 15 v5305wm notebooks at each store, but we predict they will go nearly instantaneously. According to Wal Martâ€â"¢s web site the v5305 will only be available in-store, so donâ€â"¢t bother waiting up all night hoping to order one at the stroke of midnight.
For those looking for cheap notebooks this holiday season, there will be lots of retailers and manufacturers getting in on the game, so this wonâ€â"¢t be your last chance at scoring a deal. Keep an eye on our Cheap Notebooks page as weâ€â"¢ll let you know when we spot any bargains.
Remember, while the v5305wm is the cheapest (as of today) notebook on the market, the v5000 series is a discontinued series. Other retailers have had similar deals on this particular notebook, and we wouldnâ€â"¢t be surprised if we see even better deals than this as Christmas approaches.
Advertisement