The Epson Expression Premium XP-820 Small-in-One multifunction printer prints, scan, copies and faxes. It handles plain paper, photo paper, CDs and DVDs, and it will connect to a computer via USB, Ethernet or Wi-Fi. With companion apps, owners can also print directly from their Android or iOS phone or tablet. While it does a lot, what's the print quality and speed like?
Epson sells this great little printer for only $150, discounted from the original $200 retail price. It's a bargain for home users who want nice photo prints and need a multifunction printer to occasionally send faxes, make copies, scan photos and print documents. It's small enough to fit in a small office for low-yield document and photo printing and multifunction needs.
Epson Expression Premium XP-820 Small-in-One Printer Features
Epson packed a ton of features into this small all-in-one printer, or as they call it a "small-in-one" printer. First, consider the printing features. It will print directly from a multiple sources, including:
SD-card
A camera via USB connection
iPhone, iPad or Android device via Epson iPrint or Creative Print apps
Computer
Scanned documents
Faxed documents
Google Cloud Print print jobs
The printer also sends and receives faxes, makes copies and scans photos or documents.
Printing from an SD card or a camera works well. The user can view the photos stored on the camera or card, select which pictures to print and even do some basic editing. I was easily able to crop a photo, correct the exposure and color instantly with an auto-correction feature, and then print it with good results.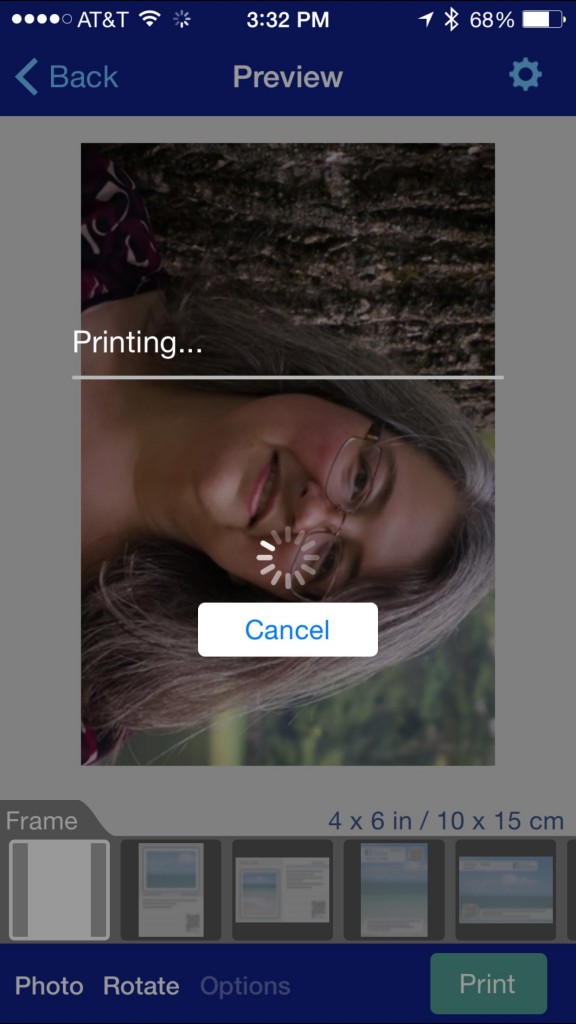 Printing from an iPhone 6 Plus using the Epson iPrint and Creative Print apps also makes it easy to send phone snapshots to the printer. Connect the phone and printer to the same network to use the app or email the photo to the printer via the Epson Connect service. Epson Connect assigns an email address, which the user can then customize from the online configuration site, to email documents to the printer. After sending a photo to the Epson XP-820 the printer first printed the email body and then the photo attached to the email. It intelligently printed the email via the regular 8.5×11 paper tray and the photo using the 4×6 photo paper tray.
The scanner feature scans documents or photos directly to a computer, the built-in SD-card slot or via the Epson Connect services. Choose to scan to the cloud and it sends the scanned item to online storage services like Dropbox, Google Drive, Evernote and Box.
Epson sent us a slew of documents about the printer, so I loaded them all into the scanner sheet feeder and scanned them to Dropbox, after I set this up. The scanner won't win any speed races, but it scanned the sheets and sent them to Dropbox without issue. This is a great feature for people who want to quickly backup a stack of bills or papers and store them off site. Using the scanning software on the computer, the scan function will scan double-sided documents.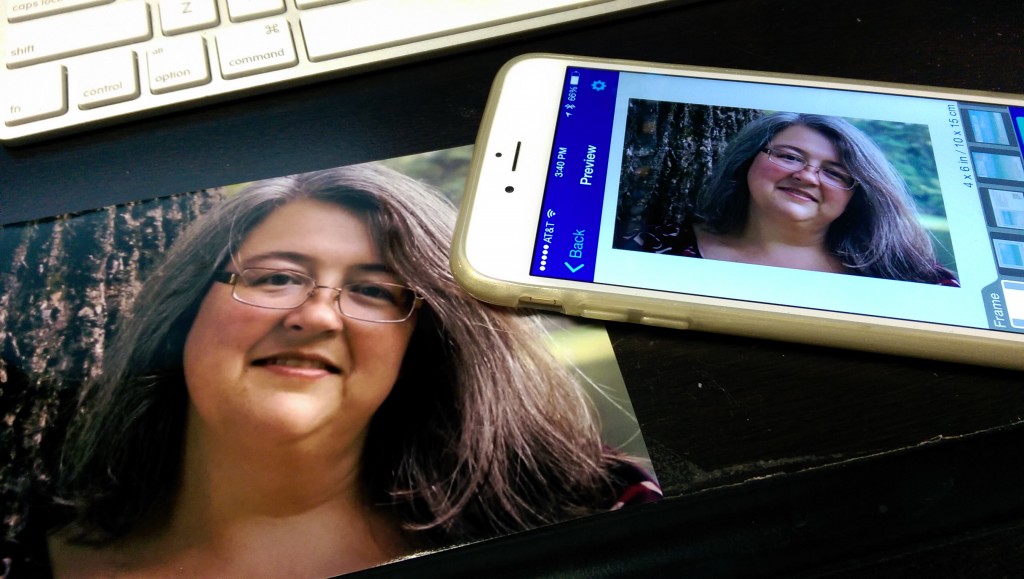 Epson includes a CD or DVD printing tray and Epson Print CD software. I downloaded Windows 8.1 from my Technet subscription and burned it to DVD. Using the software I created an image and printed it. For some reason it stalled midway through and spit out the disk only a third of the way through, as seen below.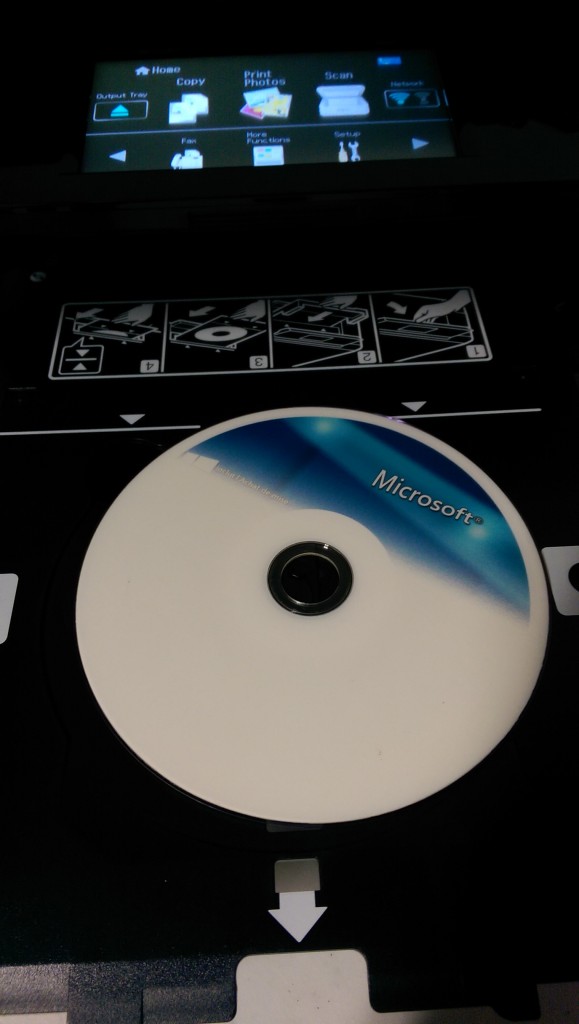 That's a minor issue, unless a buyer really needs disc printing. Even then, I'm sure we could make it work if I was properly motivated. I don't burn many discs anymore, so I wasn't.
Epson Expression Premium XP-820 Small-in-One Printer Design
Epson's Expression Premium XP-820 gives users a compact all-in-one printer. It's made of black glossy plastic material. On top there's a multi-sheet paper handling tray for loading many documents or photos to scan, fax or copy.
The company put the word "small" in the printer's name because it doesn't take up a lot of space for an all-in-one multifunction printer. With the printer tray open it measures 17.2″ x 23.5″ x8.1″. While not in use that shrinks to 15.4″ x 13.3″ x 7.5″ and it weighs just over 21lbs. Other printers in this price range compare favorably in size, so the whole "small" thing isn't as big a selling point as Epson wants buyers to believe. It's not huge and fits where we placed it in a home office.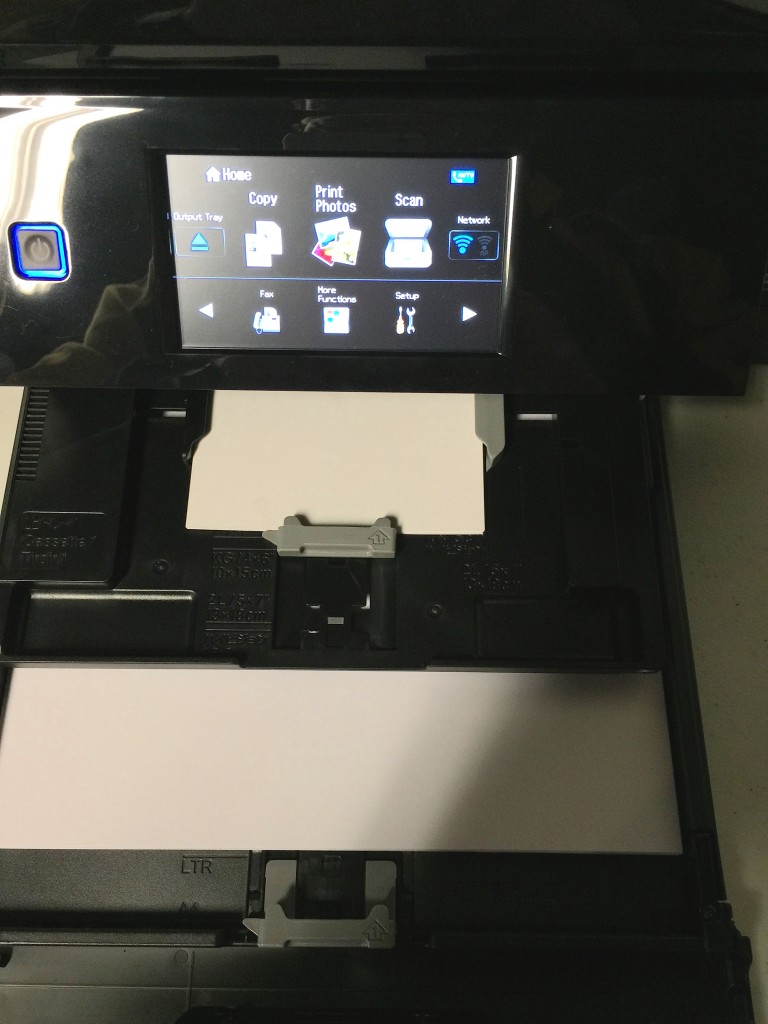 The front of the printer includes a touch screen for controls. It lifts up so the user can see it while standing over it, but also lowers to see it front on. The controls are easy to use.
The paper tray robotically comes out when a print job starts and the user can push an on-screen button to pull it back into the printer for storage. This helps take up less space and keep it safe so it won't break when not in use.
The CD/DVD tray stores in the bottom. Slide it out and insert it into a slot just above the paper trays.
The printer comes with two paper trays, an awesome feature for people who plan to use it for printing both documents and photos. Put paper in the lower tray and small photo paper from up to 5×7 in the top tray.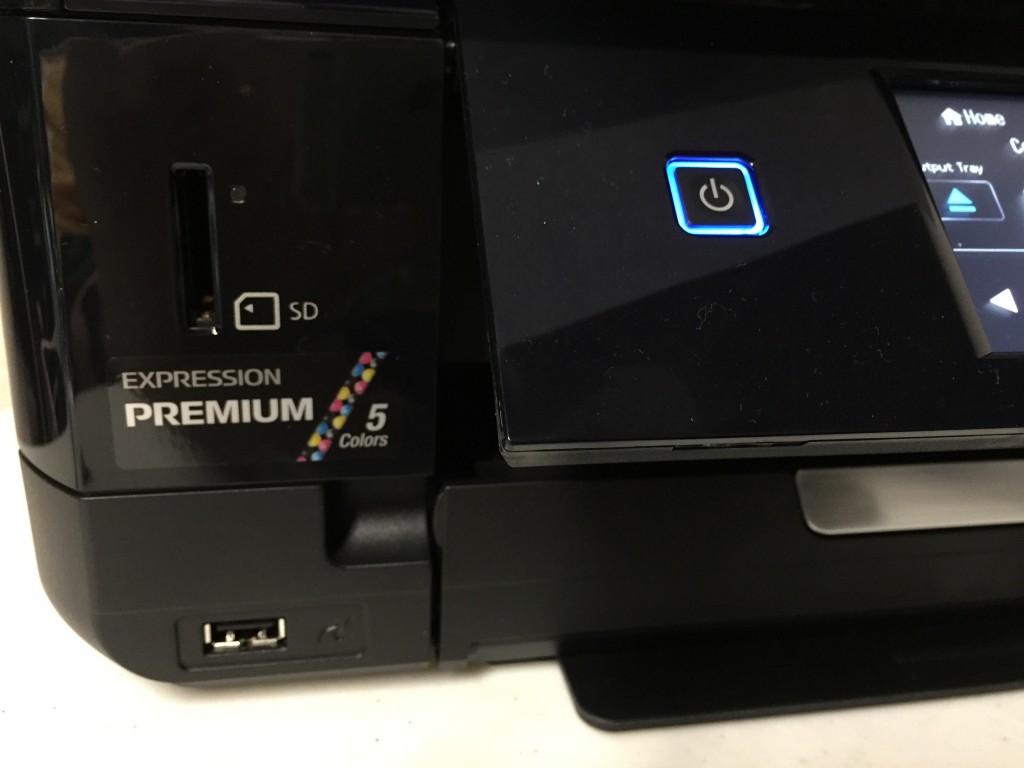 A USB port, fax line ports and an Ethernet port sit on the back right corner opposite the power cable on the left as the user looks at the back. The front includes the SD card and USB port for plugging in a camera. I tried using an Android phone and iPhone with the port but it wouldn't read the photo storage. That's not a big deal, since Epson offers mobile apps.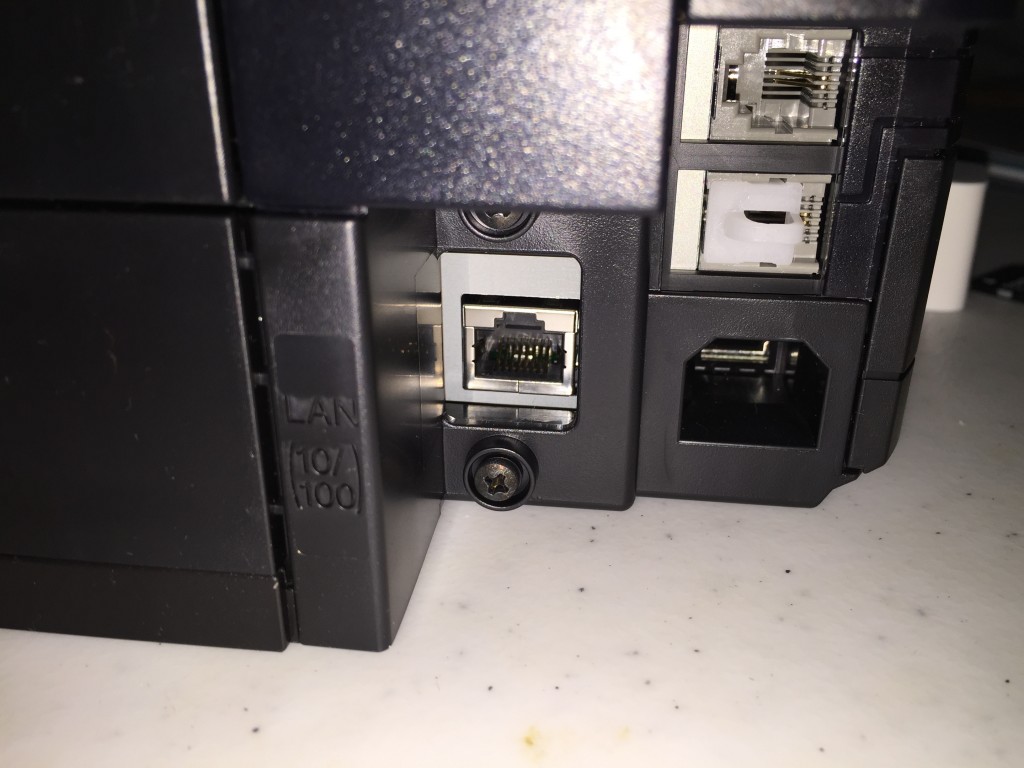 There's an automatic duplexer that the user can remove from the back to print on specialty papers like card stock. It makes  double-sided printing easy.
Epson Expression Premium XP-820 Small-in-One Printer Print Quality
The photo print quality stands out for this price range. To get serious professional prints users need a dedicated photo printer that usually costs at least hundreds of dollars, or even into the thousands. However, for a home or small office multifunction printer, the Epson XP-820 does a great job. Pictures look nice, with smooth print and color that seems accurate. You won't get better pictures at the local drug store photo lab.
Print speeds from the moment the user sends their photo to the printer are pretty slow. However, people who only print a few photos a week will sacrifice speed for quality. Scanning documents is also a little slow, but compared to other printers and scanners in this price range, it's not bad.
I'd never want to print a professional photo with the Epson XP-820, but I printed a lot of family photos and put them on my desk.
Document printing produced good quality with average speeds.
Value and Conclusion
In the plus column, the Epson XP-820 printer…
Produced good quality photo printing for family snapshots
Is small enough for compact offices
Sells for only $150
Prints and scans double-sided
Offers lots of features
However, the printer is slow and the paper trays are awkward to use. CD/DVD printing didn't work as well as it should.
The Epson Expression Premium XP-820 Small-in-One Printer offers a great value with tons of features for a good price. We'd recommend it for home users with modest printing needs. Office users might even enjoy it, so long as they do low volume of printing documents and photos.
Advertisement