Looking for a premium leather sleeve to protect the MacBook Air while on the go? Something that will stand out in the board room and on the jetway?
The Lusso Cartella MacBook Air sleeve will do just that with its supple fine grain leather and beautifully accented soft ultra-suede interior.
These cases are anything but ordinary, but that's what I'd expect from a handmade case that costs over $100.
Lusso Cartella justifies the high price with handmade construction and high quality leather. I was expecting something that looked and felt nice, but I didn't expect leather that is so soft. The premium leather looks and feels great, and definitely catches eyes when it is out in public.
During my review of the Lusso Cartella MacBook Air sleeve i used the sleeve on its own as protection when taking my MacBook Air on a fw trips and the leather showed no signs of wear. I also placed it in my Tom Bihn Brain backpack for a few day trips, as it is slim enough to fit into the Brain Bag compartment.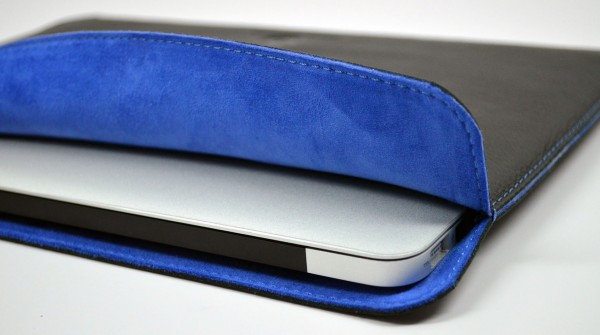 The interior of the Lusso Cartella MacBook Air sleeve is lined with soft ultra-suede accented in light blue on my review model, though it is available in an array of colors online. The black leather and orange accent looks especially dashing online.
The soft interior won't scratch or mar the aluminum exterior of the MacBook Air, and there is no zipper to catch on the edges of the MacBook Air. The stitching matches the accent color for a bold look.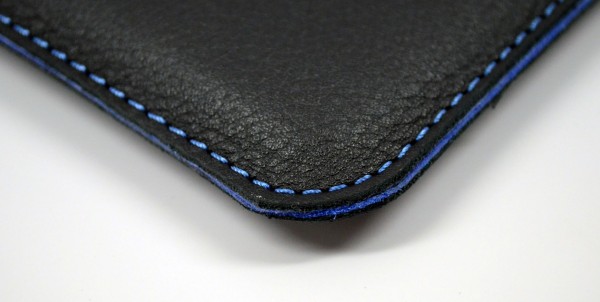 Lusso Cartella says this Macbook Air sleeve is perfect for, "Executives, Business Professionals, or lovers of Fashionable Luxury," which is true given the cost of this case. There's no denying that the case is worth the cost, but many owners will balk at spending $100 on a case for the MacBook Air.
For those who can afford the luxury, it is a great looking case that stands out.
Buy the Lusso Cartella MacBook Air Sleeve for the 11-inch and 13-inch MacBook Air models starting at $110 from Lusso Cartella. They are currently offering a 10% off promotion for users who like the brand on Facebook.
Advertisement