Ultrabooks are everywhere lately, and last night I got the chance to spend a few minutes with Toshiba's entrant into this new category. The Portege Z830 definitely deserves the label "drool-worthy" if very thin, very light laptops are your thing. The 13-inch system weighs less than 2.5 pounds (lighter than your average 10-inch netbook) but doesn't feel cheap thanks to the magnesium alloy chassis.
Being ultra thin (0.63-inches) and ultra light may attract the oohs and aahs, but you need more than that to make a successful notebook. I'm glad to see that the Z830 has a backlit keyboard, a feature I find myself wishing for more lately. Even better, Toshiba included plenty of ports: 1 USB 3.0, 2 USB 2.0, SD card slot, and full sized HDMI, VGA, and Ethernet ports. The company cleverly positioned most of these along the back to keep the clean, tapered look on the sides. Given this, the Z830 could potentially work as a person's primary computer.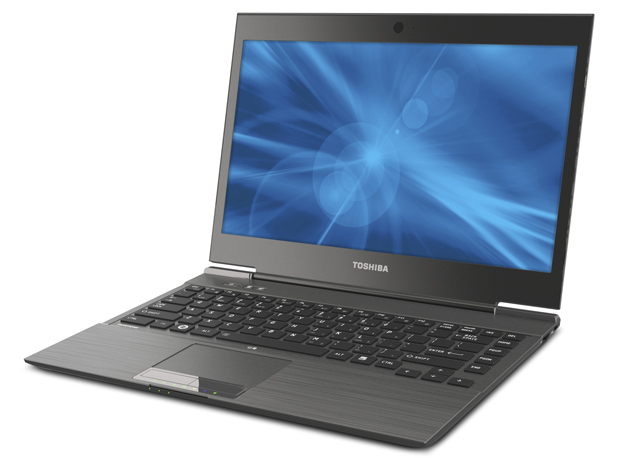 Inside the series will come with second generation Core I processors from Intel. Retail models will likely come with Core i3 or i5, but customers will have some configuration options if they order from Toshiba Direct. As of right now, the only storage option is a 128GB SSD.
Toshiba promises speedy boot up and wake times. The demo unit I saw last night delivered, going to sleep in about 5 seconds and waking in about 3. It opened applications in seconds and overall felt really snappy.
The one disappointment I noted was an alarming amount of flex in the lid. With the unit closed, I pressed down on it slightly and it bent inward. Granted, the one I saw was pre-production, thus doesn't represent the finished product.
Being a netbook person, I couldn't help but give the side-eye to my NC10 after holding this ultrabook. Here you get a bigger screen, more power, and more portability. Of course, you'll pay more for it.
Toshiba hasn't released firm pricing yet – right now they're saying "under $1,000," which could mean $999. That's still less than the 13-inch MacBook Air's starting price. Expect to see the Portege Z830 in November of this year, just in time for the holiday rush.
Advertisement