If you are a fan of the Victorian Era or Steampunk styling, then you need to check out the new Steampunk laptops that are available for preorder from DataMancer.net. These custom creations put modern technology into a semi-portable package that's perfect for looking regal at a Lan party or for traveling back in time to the days of visible gears and Victorian charm. You can preorder your own Victorian/Steampunk notebook today for a cool $5,500, which is a savings of $2,000 off future batches.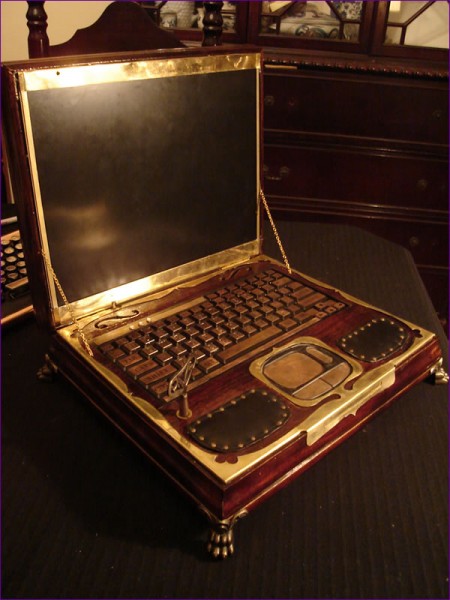 The Steampunk notebooks are brought to life by Richard "Doc" Nagy, who created the original Steampunk laptop shown above. Nagy has honed his skills and upgraded to better equipment in order to deliver a more refined Steampunk notebook to average users with enough cash. Unlike the model above, the Steampunk notebook you will get will be running the latest in modern technology and will be slimmer and more portable than the original tabletop model.
In addition to the new design, you can trick out the Steampunk laptop with a number of finishes and options to match your tastes, or your Steampunk wardrobe.
Several customizations will be available including a few different options for the design on the LCD lid including clockworks as seen on the original (except these will be semi-functional and spin), recessed gold foil maps, brass plates with a variety of designs engraved or photo-etched into them, and any other ideas I can think up along the way. I also plan to include a key-shaped USB flash drive with every laptop that will also open a brass lock on each machine. Why not add a little analog security to your digital device? You will also have several options as to the color of the wood stain from light oak to a dark red mahagony and anywhere in-between as well as key fonts, metals, LED colors and styles, etc, etc.
For now you can only get a Steampunk PC, but if you want to run OS X, "Doc" suggests installing a Hackintosh OS on your Steampunk notebook. As far as performance there aren't any details about the specs, but the product page says you will be able to run, "any of today's games and other software."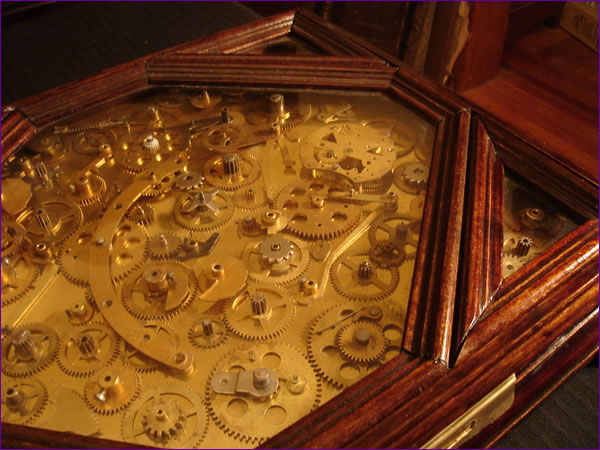 If you preorder, with a 50% deposit, you get one of the first signed and numbered Steampunk notebooks and access to private videos detailing the design and progress — all in addition to a $200 discount on the anticipated retail price.
Check out the wicked power button on the Steampunk prototype. That's one key you don't want to lose.
Via Cnet
Advertisement