T-Mobile has announced an update to the webConnect mobile broadband plans, increasing the price of the high end data plan to $85 a month for 10GB. The new T-Mobile webConnect plans are compatible with notebooks with T-Mobile broadband built in, USB modems, WiFi hotspots like the MiFi and tablets.
The new webConnect pricing starts at $29.99 a month for 200MB which comes with a $.10 per MB overage fee after you go over 200MB. The next step up is a 5GB data plan which starts at $49.99 and will be the better fit for most users. Bump up to the 10GB plan for $84.99 a month if you really need a lot of mobile data.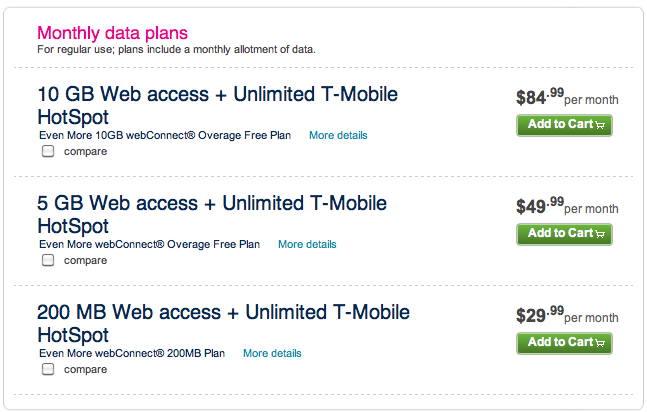 Both the 5GB and 10GB monthly plans come without any overage fees, but your connection will be throttled to a slower speed once you go over 5GB or 10GB depending on your T-Mobile webConnect plan.
The T-Mobile webConnect plans listed above require a contract and include access to 3G and 4G data depending on your location. These plans come with a 20% discount if you have a T-Mobile Voice account, making the pricing much more palatable.
If you don't want a contract, there are no commitment plans from T-Mobile which include 100MB of Data good for 7 days at $10, 300MB of Data valid for a month for $30 and 1 GB of data valid for one month for $50.
These data plans allow you to connect your notebook or other devices to the internet wherever you have a cell phone signal. Before you invest in a mobile broadband plan and sign a contract we suggest you evaluate your options including the possibility of using your phone as a personal hotspot. Many times you can add a tethering or mobile hotspot option to Android smart phones and the iPhone for less than the cost of a separate plan.
Advertisement