It's a good thing that Apple is showing new Mac owners how to use the Mac App store since users can now find a Mac App to help them make the switch from Windows to OS X. Learn the Switch to Mac is a new app in the Mac App store which contains a series of tutorials and videos to help new Mac users understand the way that the Mac operating system works.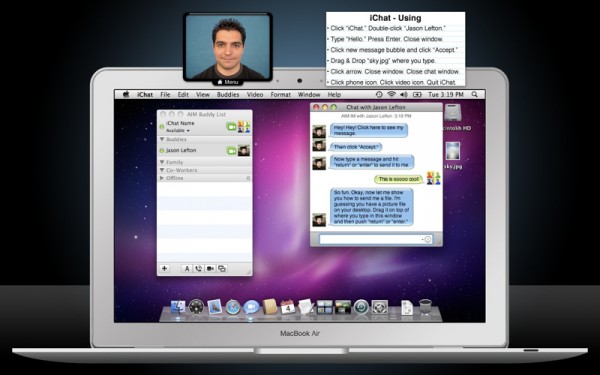 The Learn the Switch to Mac app is available for 99 cents right now, and at that price it's a no brainer for new Mac owners who need help learning their way around the system.  It may be a bit basic for advanced users, but the collection of tutorials covers useful tips and activities for basic computer users who want to know how the Mac operating system works.
Video of the Learn the Switch to Mac App:
Here's a listing of the Mac tutorials that are part of the Learn the Switch to Mac App:
Apple Menu

•Discovering info about your Mac

•Easter egg to get serial number

•Quick links to System Preferences

•Sleep, Restart, Shut Down, Log Out

Address Book

•Creating contracts and customizing

•Creating groups and organizing contracts

•Printing Address Book labels and more

•Integration Address Book brings to Mail

Dashboard

•Activating Dashboard

•Downloading more Widgets

•Managing Widgets

•Deleting Widgets

•Closing Widgets

•Creating Widgets from Websites

•Using widgets such as:

◦Business

◦Stickies

◦Stocks

◦Translation

◦Weather

Dock

•How the Dock works

•Adding Applications to the Dock

•Removing Applications

•Adding your favorite folders

Downloads folder and Stacks

•Downloading Mac OS X Software

•Discovering the Downloads folder

•Using Stacks

•Adding new Stacks in the Dock

•Customizing views of Stacks

•Removing Stacks

Exposé

•Activating Exposé

•Keyboard shortcuts for Exposé

•Customizing Screen Corners

Finder

•Using Finder

•Opening and quitting Applications

•Window control buttons

•Organizing files in the Home folder

•Views

•Using Quicklook

iCal

•Adding events in different views

•Organizing events

•Adding alarms and repeats

•Using the mini Calendar

•Subscribing to new Calendars

iChat

•Using iChat

•Getting a free screen name

•Text Chatting

•Audio Chatting

•Video Chatting

•Screen Sharing

•Sending files

•Customizing iChat windows

Keyboard Shortcuts

•Teach Mac keyboard shortcuts

Spaces

•Activating Spaces

•Customizing Applications Space

•Dragging Applications to different Spaces

•Easter Egg to bring all windows to Space 1

•Adding more Spaces

Mail

•Adding multiple accounts

•Using Mail – Get email and send

•Easter Egg adding attachments

•Searching

•Downloading attachments

•Using Quicklook with attachments

•Notes

•To Do

•RSS

•Stationary

•Customizing the Junk filter

Safari

•Using Safari

•Easter Egg when going to .com sites

•Tabs

•Adding bookmarks to the menu

•Google search

•RSS

•Creating a widget from a website

Spotlight

•Using Spotlight as a:

•Application Launcher

•Calculator

•Dictionary

•File locator

•Customizing Spotlight and Privacy

System Preferences

•Desktop Background

•Right-clicking on the Mac

•Adding a new photo

•Screen Saver settings

•Hot Corners

Network

•Connecting to a wireless station

•Advanced Network settings

•Adding a manual IP

•Creating multiple Locations

•Quick link to them

Software Update

•Checking for new software updates

•Customizing automatic settings

•Ignoring Software Updates

•Installing updates

Time Machine

•Setup a new hard drive for Time Machine

•Changing your Time Machine device

•Customizing what you want to backup

•About Time Machine

•Activating Time Machine

•Deleting previous backup files

•Restoring files

Trash

•Using Quicklook

•Right-clicking on the Mac

•Putting stuff in the Trash

•Empty Trash
The Learn the Switch to Mac app is currently available for 99 cents, but according to TUAW it will eventually cost $24.95. At nearly $25 it will no longer be a no brainer, but with this many video tutorials it may be worth it for some users.
Advertisement