Playboy Magazine has released the Playboy hard drive just in time for the holidays. This 250GB external hard drive is emblazoned with a Playboy bunny and contains images of all Playboy bunnies from 1953 through 2010. The hard drive has more than 650 issues and will set you or your gift giver back $300.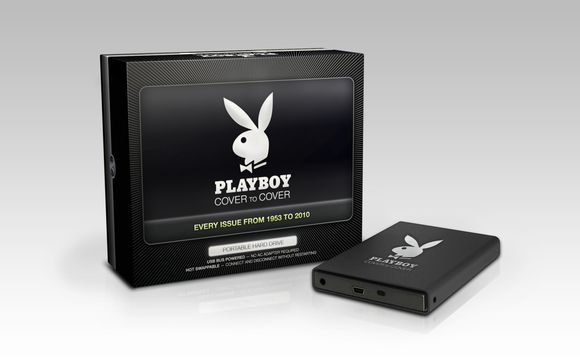 The Playboy hard drive certainly isn't a covert way of storing your centerfolds, and even though this will fit in a suit pocket and has 200GB of free space we don't think you'll want to use this as your backup solution or for taking your PowerPoint presentation to the office.
From the Playboy announcement,
"Why would you let more than 650 of your favorite Playmates celebrate the holidays in a damp garage, stashed under your bed or crowded together in the basement, when you can bring them all together beneath the mistletoe this year? An historic offering from Bondi Digital Publishing, every issue of Playboy magazine—from 1953 to 2010—is now available on a pocket-sized, travel-friendly 250GB hard drive."
The release comes from the same company that handled the sale of National Geographic's digital archive last year and it's a bit surprising that it took Playboy this long considering that torrents of the material have been available for quite some time and the magazine has been struggling recently.
Advertisement