At the Innovation Qualcomm conference in London, during a Q&A session, Qualcomm CEO Paul Jacobs confirmed that the company will be shipping the new dual core 1.5GHz Snapdragon processor chipset during the first three months of 2011. This will enable dual core mobile devices to ship during the first half of next year, said Jacobs in response to a question from Sascha Pallenberg of Netbooknews about when consumers could expect to see these devices.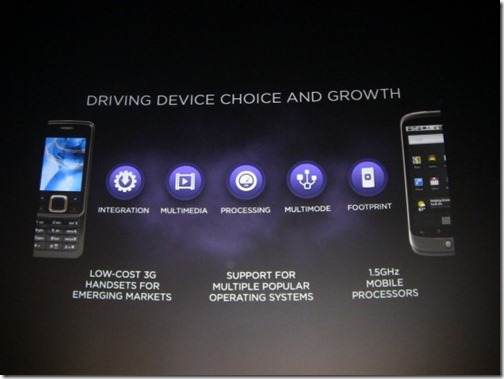 Snapdragon is a chipset technology with an ARM processor which Qualcomm is designing for smartphones and other mobile electronics, like tablets. The key features include long battery life, due to the very low power needed to run Snapdragon, and better multimedia platform for HD video and other graphics.The bump in speed and the fact that it has two cores for multitasking this chipset should provide a significant performance boost.
Pallenberg told us:
"It seems that Qualcomm is really pushing to get Snapdragon into future tablets and handhelds, because they will face quite some competition with Tegra 2 and Intel's Moorestown."
Below is a video Pallenberg made showing off the Snapdragon architecture running a game called ilomilo on a prototype from Qualcomm.
Here is a video from Qualcomm demonstrating the fluidity of the video in Snapdragon.
3D World UI Simulator
Advertisement