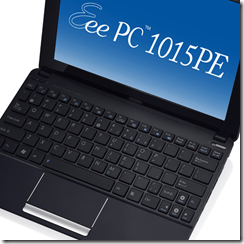 The ASUS Eee PC 1015P, 1016P and 1018P were announced a few months ago, but have not been released yet. After what seems like a long wait these netbooks are now available for pre-order.
The ASUS Eee PC 1018P is available at ExcaliberPC.com for $429. For just $80 more,  you can also pre-order the Eee PC 1016P. Rounding out the trio, is the Eee PC 1015P, which is available for $349. That's the one we shared with you a few months back, promising 13 hour battery life, though the site where you can pre-order is saying 10 hours.
Here is what you get with these new models.
Asus Eee PC 1018P Specifications:
10.1-inch WSVGA display with a 1024×600 resolution
Intel Atom N455 1.66GHz Processor
1GB of DDR3 Memory
250GB Hard Drive
802.11n, Bluetooth 3.0 wireless functionality
3 USB3.0 ports
6-cell battery for up to 10 hours
Windows 7 Starter Edition
$429.00 at one online retailer
Asus Eee PC 1016P Specifications: same as above only add the following:
2GB of DDR3 Memory
320 GB Hard Drive
Gigabyte Lan Port for wired networking
$499.00 at one online retailer
Asus Eee PC 1015P Specifications: same as 1018P but with a Seashell cover/chassis design
$349.00 at one online retailer
Via Netbook News
Advertisement