For most users installing an antivirus program is one of the first things that they install when they are setting up a new computer. A far smaller number of people install an anti-phishing software package even though being a victim of phishing can be more costly.
In most cases, a virus will erase files, but the computer can be saved with tools or reformatting; if you are phished then your bank accounts, user ids and more may be in the hands of criminals. It can take a lot of time and energy to clear this up, so why not protect yourself with a free anti-phishing application.
BitDefender offers a free anti-phishing software which provides browser based protection from phishing attempts by blocking malicious web pages used to steal credit card data and other personal information. BitDefender is compatible with Internet Explorer and Mozilla Firefox on Windows Vista and Windows XP.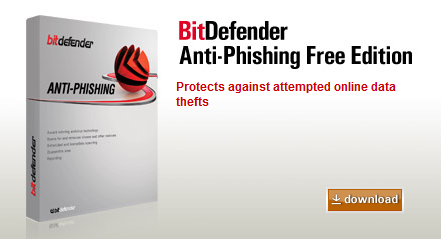 Below are some features and benefits of BitDefender Anti-Phishing Free Edition.
Real time protection filters webpages for fraudulent content.
Protects against IM phishing too. Blocks the phishing links sent, knowingly or not, through Yahoo Messenger or Windows Live (MSN) messenger.
BitDefender Anti-Phishing directly integrates in Microsoft Internet Explorer and Mozilla Firefox, through an intuitive and easy-to-use toolbar.
The web sites you know and trust can be added to a white list and will no longer be checked by BitDefender.
Even with anti-phishing software you should still use common sense when clicking links and visiting websites. If a web offer looks to good to be true or if a website is asking for information you don't think it should — don't give it any info!
Advertisement