I was a little surprised at all the excitement that Opera was getting when its browser was approved in the Apple App store. I downloaded it and it seemed snappy, but I'm so used to reaching for Safari. I keep it in the dock of my iPhone. Then I saw the speed tests at Lifehacker. In a page load test Safari took nearly 20 seconds while the same page loaded in less than 5 on Opera Mini. I did my own little test with the 1-Mississippi count standard and every page I tried to load was faster with Opera than it was with Safari, usually more than twice as fast.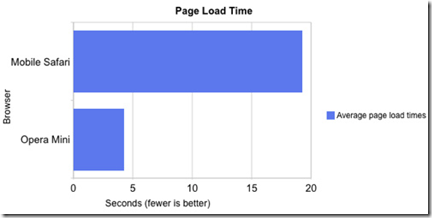 Unfortunately, a few things are going against Opera. First, its start up time was a little slower than Safari, if Safari is warm booting" – it has already been run and is in background memory. Cold booting it after a phone restart is slower than Opera, so it wins that duel. But how often do you reboot your iPhone? Not much of a win.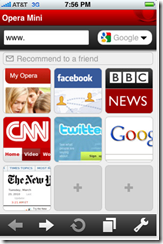 The second problem is that the iPhone OS will not let you choose another browser to load when you tap links from other apps, like in Mail or a Twitter client. So you will have to use Safari in those instances unless you cut and copy all links instead of simply tapping them.
Finally, some might not like the fact that Opera runs so fast because it caches web sites. That means that they are saving the content of the web site on Opera's servers. Some feel like this is a privacy concern. You will have to decide if that matters to you. It doesn't bother me.
My biggest question is, where is the iPad version?
If you want to view a two and half minute video demo of the Opera Mini browser you can find it at our sister site, Gottabemobile.
Advertisement