Walmart is continuing its pre-Black Friday deals with a great promotion on the Xbox 360. Starting tomorrow, you'll be able to purchase a Xbox 360 Arcade Console for $99 after a free $100 eGift card, good towards any future purchase at Walmart! The Xbox 360 Arcade version lacks a hard drive but plays all Xbox 360 games and comes with a wireless controller! It has an HDMI output port for easy connectivity to your HD TV and can be used to stream media using your home network.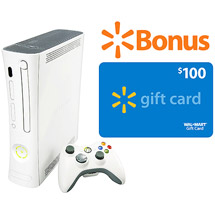 As with all promotions, qualities are likely to be very limited. It appears that you'll be able get in on the deal online; currently, Walmart has a placeholder page mentioning the special gift card deal. Check the link tomorrow to see you'll be able to purchase the Xbox without having to go to a store. The deal lasts until next Friday or supplies run out (as they're very likely to do)!
If you want to maximize your savings, you may want to use your free $100 gift card towards Walmart's HP Pavilion G60-519WM deal!
Advertisement