Newton Peripherals introduced MoGo Talk, a Bluetooth headset that you can stow inside of your notebook's ExpressCard slot. The MoGo Talk headset charges automatically when you put it inside of your notebook so it will always be ready to go when you need to make a voice call.
We looked at all the Bluetooth headsets on the market, from boutique manufacturers all the way up to Jawbone and Plantronics, and found that even with their great audio quality and noise suppression, consumers are challenged to charge and store their Bluetooth headsets," said Stuart Nixdorff, CEO of Newton Peripherals. All Bluetooth headsets on the market today are inconvenient to use; nobody wants to take a call only to find a dead headset; and nobody wants to carry a pocket full of cables, chargers that accompany a bulky headset. What good is a headset if it's not charged or feels uncomfortable in your pocket?"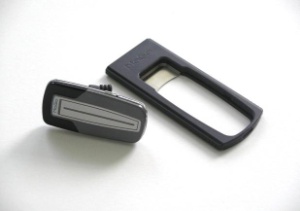 The Mogo Talk doesn't use an ear loop, but does have a conforming eartip that's designed to secure the headset in place and block out noise.
MoGo Talk is designed to be the most comfortable Bluetooth headset on the market. Most headsets use a combination of an uncomfortable earbud and earloop. MoGo Talk takes a fresh approach to headset design using neither a traditional earbud nor earloop; instead, MoGo Talk uses a flexible, thin rubber eartip that conforms to the ear, creating a seal that blocks out noise and comfortably secures the MoGo Talk in place.
The company hopes to sell the MoGo Talk via manufacturers like Dell, HP, Acer and Lenovo. The MoGo Talk is available today for $99 from Mogostore.com.
Advertisement