Wal-Mart is getting a jump start on the holidays, teasing customers with a $348 laptop that will be available this Friday at 8am. Those of you who've been waiting for Black Friday to get a cheap computer can get a jump start and score a decent notebook early.
Walmart is selling the Acer AS5415-2153, which includes some respectable specs, considering the $348 price tag. It includes a 15.4-inch widescreen display, 1.73GHz Intel Celeron M 530 processor, 80GB hard drive, 1GB of RAM, CD-RW/DVD-ROM combo drive and 802.11 b/g WiFi. The Acer AS5415-2153 ships with Windows Vista Home Basic.
Limited quantities will be available at most WalMart stores starting at 8am local time. The Acer AS5415 has a list price of $448 on walmart.com, but is not sold online.
WalMart is advertising its "Secret in Store Specials" here.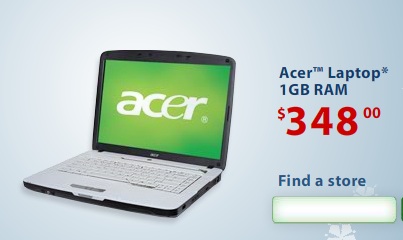 Advertisement