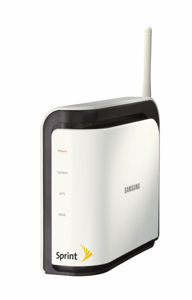 Sprint's offering customers in select areas of Denver and Indianapolis the opportunity to improve indoor call quality…for a fee. Sprint's launching the Samsung AIRAVE, a 'femtocell' device that routes mobile phone conversations over users' broadband Internet connections. Sprint customers that connect via the AIRAVE will receive unlimited domestic calling while at home.
"With the AIRAVE, Sprint is delivering an enhanced in-home coverage solution that's simple to access, low in cost and compatible with any Sprint phone," said Ajit Bhatia, director of product management for Sprint. "In addition, with unlimited in-home wireless calling, the AIRAVE makes it even more convenient for customers to rely on their Sprint phones at home."
The AIRAVE works with any Sprint phone, but not everyone will be willing to pony up the $50 Sprint is charging for the base station. Subscribers will also have to pay $15 every month to use the service or $30 for family plans. This may make sense for some who want to ditch their landlines once and for all.
Sprint seems to be double-dipping into customer's pockets however. One of the most common reasons people ditch mobile carriers is because of poor call quality indoors. Instead of remedying the issue by building out its networks, Sprint is counting on its customers to poor more cash into their mobile plans.
But for many people, $15 is a small amount of money to pay to ensure good call quality. I'd probably subscribe to a this service if I were a Sprint customer.
To see if you're home is included in the initial AIRAVE rollout visit www.sprint.com/airave. You may also sign up for alerts so you can learn when AIRAVE is coming to your neck of the woods.
Advertisement