Samsung's the first company to begin mass producing 64GB solid state drives (SSD) in a 1.8-inch form factor. This brings us one step closer to seeing ultramobiles and notebooks actually ship with a decent-sized SSD. Sony, Samsung and others are hoping users will pay a steep premium for these drives.
"We see sharply increasing interest in SSDs among OEMs worldwide amid a growing push to launch premium SSD-based notebooks, particularly in the ultra-mobile category," said Jim Elliott, director, flash marketing, Samsung Semiconductor, Inc.
SSDs feature far greater reliability, faster boot times and faster application start-up times than hard disk drives. SSD can also improve battery life by up to 20 percent in notebooks.
Samsung has already introduced 32GB SSDs into ultra-mobile personal computers (UMPCs). SSDs also are being considered for server applications such as in advertising and for Web search engines.
Samsung's mass production of 64GB SSDs makes it the largest producer of high-capacity SSDs in the world.
Samsung expects that sales of SSD units will increase at a rapid 270 percent pace industry-wide between now and 2010 to become the largest growth segment in the NAND flash industry.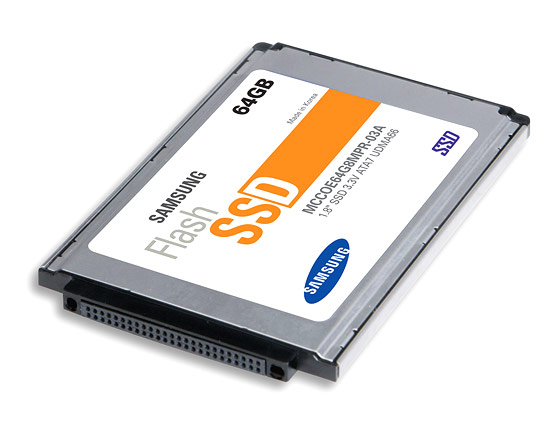 Advertisement