Apple's launched iTunes Plusâ€â€ÂDRM-free music tracks featuring high quality 256 kbps AAC encoding- for $1.29 per song. iTunes Plus is launching with EMIâ€â"¢s digital catalog of recordings, including singles and albums from Coldplay, The Rolling Stones, Norah Jones, Frank Sinatra, Joss Stone and Pink Floyd.
iTunes will continue to offer its entire catalog, currently over five million songs, in the same versions as todayâ€â€Â128 kbps AAC encoding with DRMâ€â€Âat the same price of 99 cents per song, alongside the higher quality iTunes Plus versions when available.
âہ"Our customers are very excited about the freedom and amazing sound quality of iTunes Plus,â€Â said Steve Jobs, Appleâ€â"¢s CEO. âہ"We expect more than half of the songs on iTunes will be offered in iTunes Plus versions by the end of this year.â€Â
With the release of iTunes Plus, customers can now download trackswithout limitations on the type of music player or number of computers that purchased songs can be played on.
To access the iTunes Plus catalog, users must upgrade to the latest version of iTunes.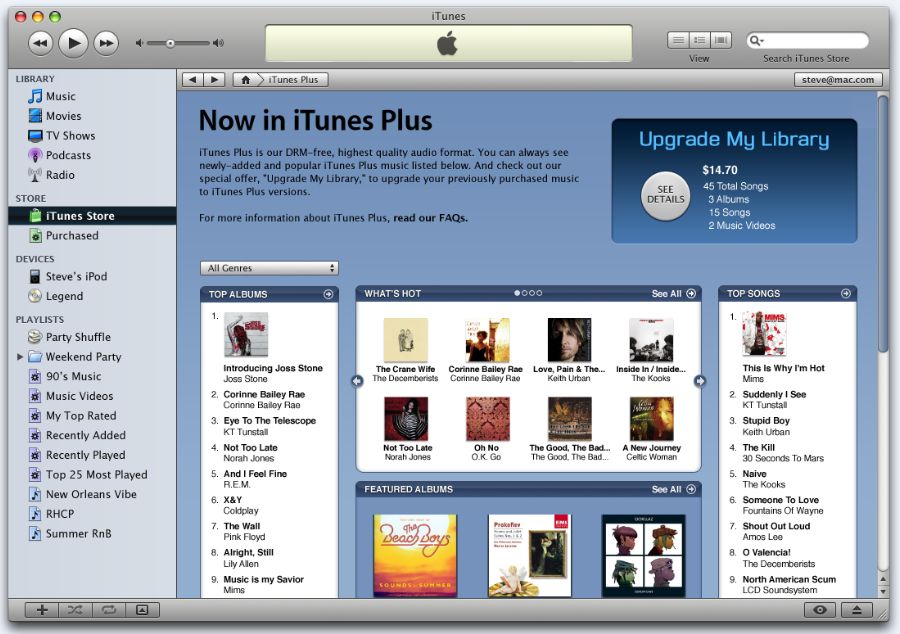 Advertisement