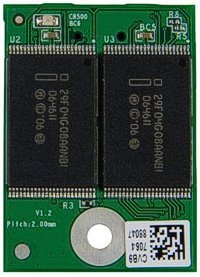 Intel Corporation announced today its entry into solid state drives with the Intel Z-U130 Value Solid-State Drive. Based on NAND flash memory with industry standard USB interfaces, the Intel Z-U130 Value Solid State Drive. The Intel Z-U130 will ship in 1GB to 8GB varieties and feature 28 MB/s reads and 20MB/s write times.
"Solid state drive technology offers many benefits over traditional hard disk drives including improved performance and reliability," said Randy Wilhelm, vice president and general manager of Intel's NAND Products Group. "The Intel solid state drive technology provides robust performance, while offering Intel's industry leading quality, validation and reliability for a wide variety of embedded applications."
The drives will also be used in a variety of Intel-based computing platforms, such as servers, emerging market notebooks and low-cost, fully featured PCs. In addition, it will be used in Intel embedded solutions for routers and point of sale terminals.
Advertisement