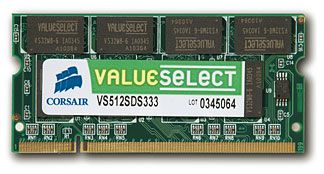 Corsair unveiled production-ready 2GB DDR2-667 (PC5300) ValueSelect SODIMMs. Theyâ€â"¢re designed specifically for current generation notebooks and Microsoft Windows Vista.
âہCurrent notebooks typically support up to 4GB of system memory when using a 64-bit operating system but feature only two memory slots. With this limitation in mind, it means users have to use 2GB SODIMM modules in order to maximize memory capacity. Having more memory in the notebook is vital in delivering a faster system response time and a smoother user experience,. said Richard Hashim, Director of Product Marketing at Corsair. âہFor those looking to transition to Vista, the 2GB modules allows instant upgrade of current notebooks to be Vista Ready and delivers Vista premium experiences.â€ÂÃƒâ€šÃ'Individually tested and certified to run at 667MHz, the new SODIMM is compatible with current Intel Centrino. Duo based notebooks.
Initial pricing will be $489 Corsair ValueSelect DDR2-667 2GB SODIMMs come with a lifetime warranty.
Advertisement