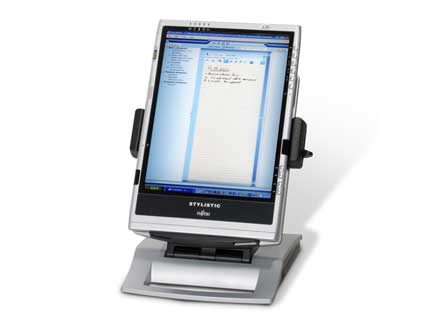 Fujitsu announced two new slate Tablet PCs today, the Stylistic ST5111 and ST5112. These are the first slates on the market to offer the latest Intel Core Duo Mobile U2500/1.2 GHz processor. The Stylistic tablets weigh just 3.5 pounds. The Stylistic ST5111 comes with a 10.4-inch screen, while the ST5112 has a 12.1-inch indoor/outdoor display.
Fujitsu packs tons of durability and security features into the ST5100 series, including embedded Trusted Platform Module (TPM), a dedicated Smart Card slot, Fujitsu Security Application Panel, two-level hard drive password, BIOS-enabled Computrace/LoJack theft recovery service support, and a universal lock slot. The hard drive is protected by shock sensors and a magnesium-alloy housing.
An optional docking station works in both portrait and landscape modes. The ST5112 starts at $2,649 and the ST5111 starts at $2,749.
Fujitsu Stylistic ST5111 Tablet PC
Fujitsu Stylistic ST5112 Tablet PC
Advertisement