Mac users have long been able to enjoy the Bundle Box for deals on app bundles, but today, we want to share the AppSumo holiday bundle for PC users that has a large collection of games, apps and utilities for $19.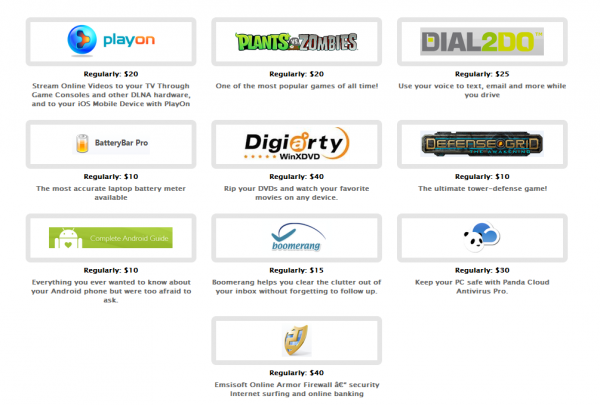 This bundle looks like a really good deal if you can find two or three apps that you like and with the inclusion of 6 months of PlayOn service, Plants vs. Zombies, Dial2Do, Boomerang and others it shouldn't be hard.
Android users will benefit even more with the inclusion of the "Complete Android Guide" which contains, "Everything you ever wanted to know about your Android phone but were too afraid to ask."
One of our favorites in this bundle is the 6 months of PlayOn service which allows you to watch Hulu and other services on your Xbox 360, Wii, PS3 or iPad and more. Check out our PlayOn.tv Review.
40% of the proceeds from the bundle go to Charity:Water and with a stellar lineup you'd be remiss not to go check out the details. The sale runs through the end of 2010.
Advertisement