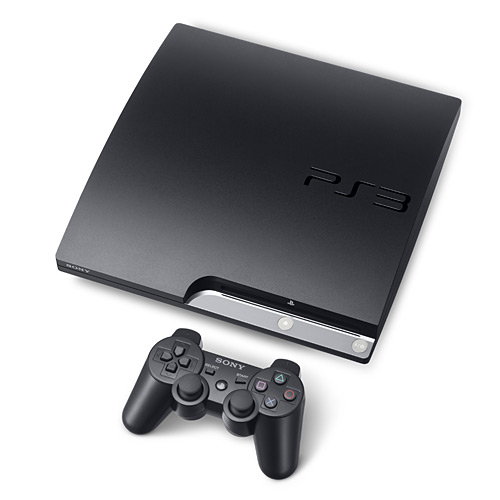 The Playstation 3 is sure to be one of the hottest gifts this holiday season. The console's new slim design and price cut make it a great present to brighten anyone's day. However, a $300 price tag ensures the PS3 is still pricey and not something everyone can afford. However, just because Sony's losing money on every PS3 sold, doesn't mean you need to break your wallet. You can score one for cheaper if you buy from Sears.com using Bing Cashback!
If you're unfamiliar with the Bing Cashback Program, it's pretty straightforward. You access online shopping sites through Bing's search advertisements and earn cashback on your purchases. For example, in order to get cashback on your purchase of a PS3 from Sears, click this link.
You should see something similar to the page below. Click on the advertisement (circled) which mention Sears.com and has the Bing cashback logo next to it. If the above search doesn't bring up the 20% cashback link, try searching Bing for the word kenmore. I've heard reports that it's another 20% Sears Cashback keyword.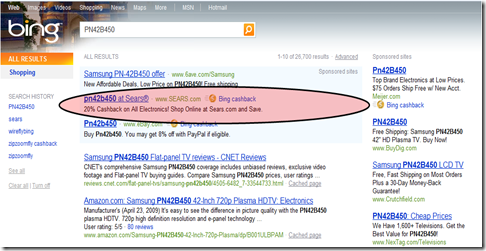 When you're redirected to the Sears website, find the PS3 by searching for it and add it your cart. You should see the following appear on the right of your page: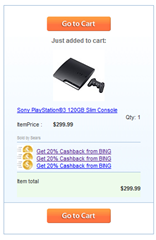 Make sure that the 20% Bing Cashback link is visible! Otherwise, you won't be eligible to get $60 back and will be paying full price for the PS3! Before you confirm and place your order, double-check that this box is properly filled in and visible:

You can save some extra money on shipping by arranging for pick-up at one of you local Sears stores. Just select pick-up before you add the PS3 to your cart! If you're looking to purchase something else from Sears, such as a Wii, you can still enjoy the 20% cashback if you follow the above instructions!
Advertisement